The time Eoin Jess got me a huge bollocking
I lived in London in the mid 90s. For a couple of years my job was painting blackboards and the occasional mural for pubs and restaurants. It was a fun, bohemian job, carrying around a toolbox of paints and paint pens, working largely in central London, meeting assorted pub, hotel, wine shop, cafe managers and the odd dodgy businessman. A lot of characters, a lot of lovely people, the odd celeb.
It was the Britpop era, I walked past Noel and Meg on Charing Cross Road, the artist Peter Blake (Sergeant Pepper cover) on the same street, I queued behind Malcolm McLaren in Rymans on Tottenham Court Road buying photocopy paper, got hammered before 12 am in a very posh wine shop next to Harrods as the manager thought a glass of fizz would help my creativity that became several bottles and he shut the shop for a sleep. His boards were not good…
The fitba
Sometimes the pubs needed Sky TV promoted, so a picture of a footballer would be needed to illustrate it. As a Dandy, well it had to be Eoin Jess. I was a bit apprehensive, you don't want to piss people off when this is how you make your living, but having 'got away with it' the first time, I then put Eoin onto most of the football blackboards.
I 'justified' it as, since it's London, so much rivalry between London clubs, it should be someone neutral. Central London is also very international from the huge volume of tourists and those working there. Plus everyone is very, very busy. Not really time to check what badge that footballer in red is wearing.
This was still kind of ignoring the fact the pubs were selling the English Premiership while Shearer, Wright, Bergkamp and Cantona were in their pomp. It went on so long I simply forgot it might be an issue, and not realising that the more I did, it was becoming 'a thing', a signature as it were. There was also a repeat element of me having the photo (from Shoot! magazine) in my bag of Eoin that I was copying from. So not that cool and bohemian then.
One day I was working outside a pub on their A board (the big double sided board that sits outside pubs), a huge 6 footer, just a little bit out of the centre. A furious pub manager came at me from another pub altogether.
'You are the guy painting Eoin Jess onto pub blackboards, what the hell do you think you are doing?' He was proper angry. Furious. He kept on at me for about five minutes. A big guy, like a lot of pub managers, a heart attack waiting to happen, but in an immaculate white shirt and beer stained tie. I just sort of nodded apologetically while thinking, 'must be pretty good illustrations if you knew who it was'. So a little bit flattered.
Also I couldn't really deny it. As I was in the middle of adding one to a board. 'Coincidently this is my first one', 'someone else did the others'?
So I had to stop. As the particular angry pub manager was English (London pub managers were often Irish or Scottish) I then painted whoever had scored against England onto the boards. I got Maradona onto one, and assorted German players. Passive aggression through art. This also meant the 'cool bohemian artist' needed several copies of Shoot! magazine in his bag.
Not all pub managers were into football. They think it's a nice illustration of a footballer, me and everyone Bulgarian, knew it was Hristo Stoichkov. The pubs paid me cash from the till. I'd leave a pub with a couple of hundred quid cash in my pocket, ready to start the next day at a new location. Desperately hoping the Bulgarian barman would shut up about who was on the blackboard until I had at least reached the tube station. Sometimes on site a couple of days, always the fitba board (my favourite!) was left to last, if nothing else for a quick exit. Thinking back that this was how I made my living, what an idiot!
I'd forgotten it wasn't just Eoin though, until my father reminisced about one time he was visiting London. He hadn't yet seen me, had arranged to meet me later. Having travelled from Aberdeen that day, he turns a corner in Soho, and there is Stephen Glass on a blackboard right in front of him. He is a Pittodrie season ticket holder at the time. As he said, 'yeah I knew I was close…' The 'sign' he was near his son.
Update: This was originally published in 2016. Although amended, Stephen Glass was in the original.
Below is one of the examples. Two metre high board, a pub about 50 metres from Trafalgar Square, round the back of The National Gallery. That's Nelson at the top. Eoin about to be tackled by a plate of fish and chips. I painted a mean fish and chips! Unfortunately I stopped photographing them once I was established and busy. They got a lot better the more I did, and there were thousands. One pub I did on Oxford Street, The Hog had about eighty boards. Pre digital, kids.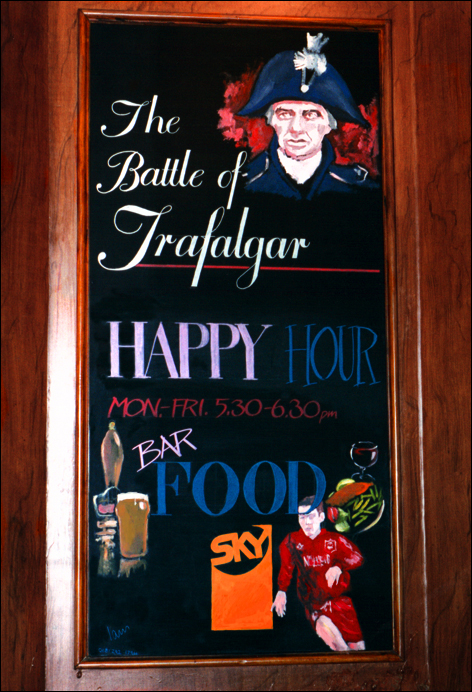 And the rest of these have nothing to do with football, just some of my blackboards.