"To protect your management status we will title it as co-manager and Drew will be the first team coach"
Alex Smith, a very long time after
Smiffy must go!
I have a memory of walking down the Merkland Road one sunny matchday, The Northern Light fanzine was on sale, and well established. There were large queues at the various sellers, there was a buzz of anticipation, there was a new one out.
I sat in the South Stand, someone in front of me reading it, laughing as they read it, I could see their reaction to the magazine, to my work, to my fellow contributors work, in our cathedral. I knew instinctively I'd never experience anything like this again. Anything so special.
That was before I discovered macaroni pie suppers.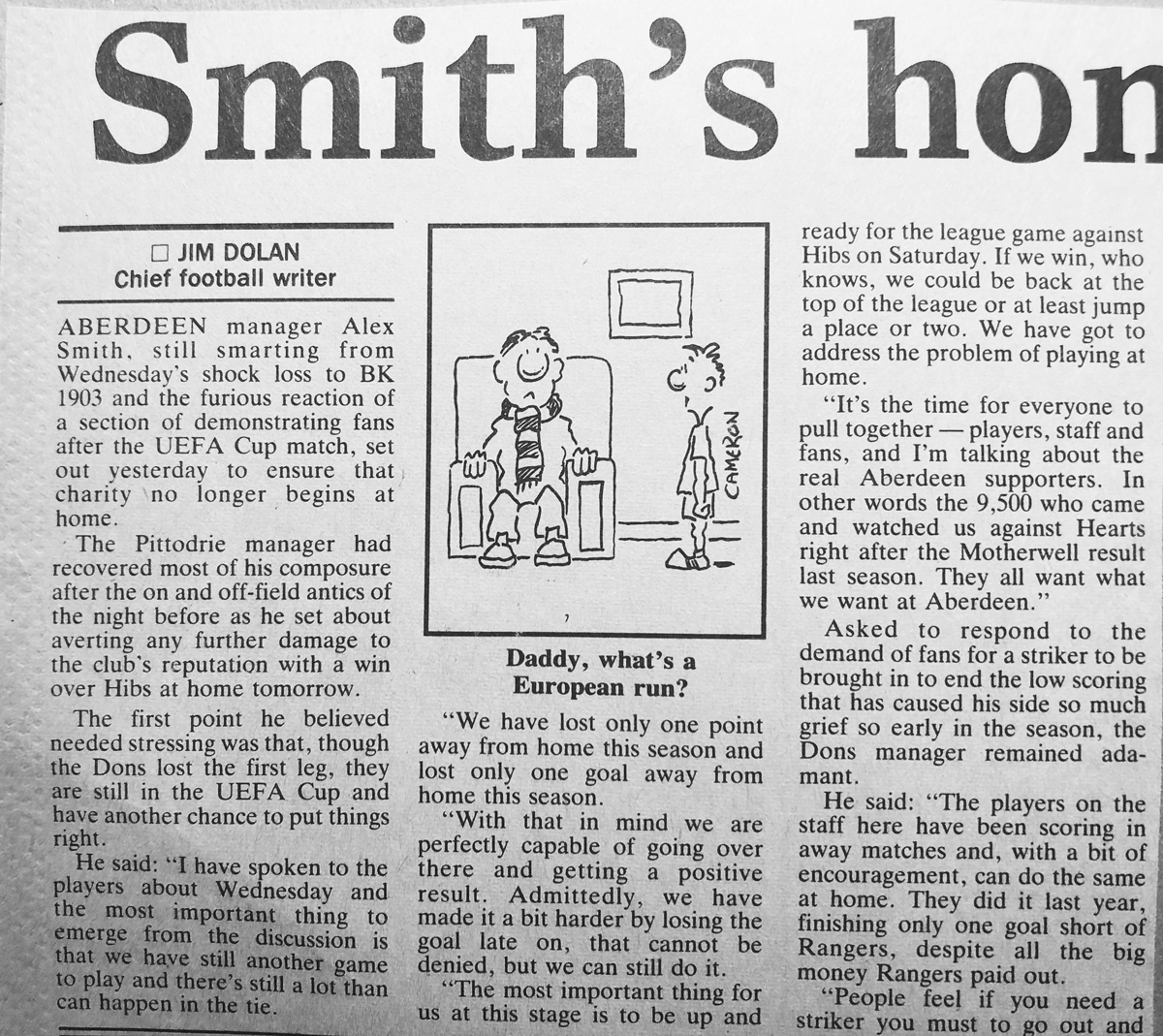 Strengthen your resolve
Alex Smiffy Smith. Let's get to it. Shit manager. Shouldn't have gotten the job. Co-managers, laughable compromise from people who didn't back either one, inherited the guts of Fergie's team via Porterfield, pissed all the money away. Largely bought shite, almost always from St Mirren. Crap tactics, crap substitutions, didn't develop talent at all, just played young players irrespective of whether they were any good or not. For Eoin Jess and Scott Booth, there was Greg Watson and Michael Watt, and quite a few others who shouldn't have gotten past one game. Was properly found out as Fergie's team was starting to age, he'd spent all the money and Jocky Scott left.
If you followed his career afterwards the same patterns repeated, spent all the money, team doesn't improve, fans protest, Smiffy sacked, poor old Smiffy, blame those Aberdeen supporters. Oh and he was a self righteous prick. His greatest skill, the ability to keep landing jobs based on fuck all.
And I can already hear the arguments. "That was the beginning of the end, that's where it all went wrong, sacking Smiffy, he won two cups, what we'd do for that now…"
Alex Smith didn't win those cups, Alex Ferguson did. Without even being in the fucking building. Ferguson generated the cash that got us Nicholas and Gillhaus. Miller, McLeish, McKimmie, Bett, the spine of the team, Ferguson players. Ferguson's winning mentality flowing through their veins. Jess and Booth? The seeds on a quality youth system needed to be planted well in advance… guess who? Even the tip off Theo Snelders and the Dutch agent came from Ferguson, or he'd have signed Campbell Money from effin' St Mirren.
To take that a step further. Did Avram Grant really get Chelsea to a Champions League final, or did the momentum from Mourinho's legacy push them there? Great managers leave a club in great shape.Those last two trophies were the bonus points from Ferguson's legacy. That legacy was burned away pretty quickly, and a lot of very bad investments were made.
If you know the history…
Appointing Willie Miller proved to be wrong (we finished second under Willie Miller twice, before it all went tits up). And history fans, no one was ever calling for Willie Miller to get the job. He was backed when he got it, but no one demanded he get it.
Just because the directors during the post Fergie years, got pretty much every appointment they made wrong, doesn't for a second make the sacking of Smith wrong. He also was a bad appointment, as was Porterfield, based on weakness, laziness, compromise and incompetence from directors that continued pretty much right up until McInnes got the job. I'm sure from now on they'll get all decisions correct…
Then you've got the media. A narrative developed that wasn't based on reality. Who do they think they are, hounding out this lovely man who won two cups. There were hundreds of people demonstrating outside Pittodrie to get Smith removed after a number of games. Alex Smith was sacked by St Mirren prior to Aberdeen, after supporters started demonstrating for his removal. He would go on to do literally nothing as a football manager anywhere after Aberdeen. Sacked again and a again. The narrative that Aberdeen made a terrible decision pumped out by a media not fit for purpose.
Smiffy's appointment
Smith was appointed first team coach by Porterfield who was clearly fishing to see if he was going to get the sack. Ever so nice club Aberdeen had never sacked a manager before. Much like Pringles, it appears sacking managers is quite moreish. The way too weak Aberdeen directors let Porterfield appoint Smith. A few weeks later, they finally sacked Porterfield. Then were stuck with Smith. That's the level of competence that was governing Afc post Fergie.
Alex Smith was sacked after Jim Dolan in The Press and Journal (the only place for Afc info back then) took him apart in a quite brilliant, and deserving take down after what would become his final game. But ultimately he was sacked at Aberdeen, just like at most of his jobs as he was a shit manager.
Lights out
This next content I have no right to reproduce here. If any of the editors, writers or artists want to get in touch info@thedandydons.com I'll take them down immediately. They are from one of the final Northern Light's before Smith was sacked. I don't have anything in that issue, I was busy with the P&J at the time, returning for the final issue.
However the article first left, is about me. Cheers guys! Particularly for spelling my name wrong. And I was about 11 stone and 6 foot 1, the weight jibes (?!), I'll eventually get over them. Eventually. The article to the right of that, is quality.
More importantly, these pages give a sample of that last eighteen months of Alex Smith, also of the real quality of The Northern Light. I so wish it was online somewhere. I'd even put it up for them. I was just an inconsequential outside contributor.