McInnes – the end of an era
A messy, slightly emotional, slightly relieved early look back at the McInnes era
Published 09 March 2021
McInnes took over after the split. There was an announcement, the top tier of the Big Dick was to be closed for smaller games for the following season. Met as yet more down sizing for the club with predictable negativity, this would a short time later be part of our rather lovely renaissance. When the new season started, and the Dandy support could smell change in the air, the support came back, came back in numbers. With the top tier shut, the support was spread around the stadium. The corners were filling. Like magic, the stadium had some atmosphere back. The Old Girl still had it.
It has never publicly been said where that came from, pure speculation from me, but it was announced in the first week of Derek McInnes' reign as manager. I'd say that was something he suggested in his interview. How to bring back to life Aberdeen Football Club. Oh and training facilities would also have been mentioned most certainly.
McInnes Park
Really worth pointing out the training facilities battle that McInnes fought. On our behalf, on all future Aberdeen managers' behalf, on Scottish football's behalf. He publicly, at considerable risk to himself, (Milne didn't hold back on a sacking) pushed non-stop for those training facilities. Training facilities that NEVER needed to be next to a new stadium, that Skovdahl was begging for twenty years previously.
Included in the training facilities narrative were a number of twists and turns. A promise of a shared facility with the University, that was 'definitely coming' turned out to be nonsense in a not entirely surprising turn of events for seasoned Afc watchers. That padded out a couple of years. They would eventually arrive, sadly too late in the McInnes era, but it was him who pushed and pushed and pushed, until they built them. And yes they are Dave Cormack's and absolutely deserving Dave Cormack's name is on them, but they will always be a huge part of the Derek McInnes legacy. He did it. He made it their number one priority by keeping it in the media.
End of days
It ended badly and it was a terrible shame. I suspect they were trying to get it to the end of the season before the mutual parting, but with the players knowing the end was nigh, and you can see with Liverpool, it's probably even harder to dig a team out of a slump during lock down (these are not normal times) it had to end when it ended.
I have had a suspicion McInnes has 'been gone' for some time as Aberdeen manager. In that his demeanour changed during interviews a month or two back. He went from having the weight of the world on his shoulders after a poor performance where he would barely look up from the floor, to resolutely and calmly unblinkingly staring into the camera giving calm and collected post match interviews. He's known for a while it was over. Was it the Hernandez thing, was it Cormack wanting his own man in, was it just the performances, or was it something completely different. We may never know, or there could be interesting developments to come.
His interviews were always very revealing. Articulate and smart, we are all used to that now. One of the most read articles ever on this blog was about 18 months into the McInnes era where I went after McGhee and Calderwood's car crash interviews, and where we had been grateful to Craig Brown for just being able to get through an interview without embarrassing the club (and sitting in ninth). That's how low a bar we had for success. Now long forgotten, future manager interviews will be interesting.
Will we get the old staple from The Glasgow media to get our manager to slag off our support?
'Are Aberdeen supporters' expectations a problem for the club?' McInnes shot that one down in his first interview with a resolute 'no'. They never asked again.
Career opportunities
Another interesting part of the McInnes era is the number of Aberdeen players associated with Scotland squads. Jack, Shinnie, McKenna, McLean, Considine, Christie (I know) Wright (I know). McInnes had a significant contribution to their career development. If McGinn and Hayes, and probably Big Sam been Scottish, then they too would probably have gotten Scottish caps. So there was a significant amount of elite talent developed, potential fulfilled.
This to me was perhaps where the successful team/talent development clash took place. It felt like some players were indulged. At the same time those 'indulged' players went on to Scotland caps, and huge salaries in England in most cases.
Only an excuse
The last couple of seasons were not good. However there were some wonderful memories. The sheep on fire. That first few years. Semi finals being expected and regular finals. I think Brendan Rodgers is also significant. I believe he was Celtic's best manager since Stein, and was absolutely getting everything out of that enormous budget he had available. That was when McInnes' team was at its best, and sadly knocked us flat. What ifs are pointless, but that to me is why there was only one cup, which is a real shame.
Learning from the best
A very interesting comment was left on a group post a few weeks ago. It went along the lines of 'McInnes didn't learn the lessons of Sir Alex – keep changing your backroom team'. Apologies I don't have the name for who wrote it, but this really got me thinking.
Like a lot of us of a certain age, a seasoned Sir Alex Ferguson watcher, I had naively thought Sir Alex perhaps a bit difficult to get along with, due to assistant managers changing regularly. At the same time it would regularly infuriate me that whoever was Ferguson's assistant was regularly praised to death in the English media. McLaren, Phelan, Queiroz, as if it wasn't Ferguson that was the real talent. Add Guardiola saying he changes club every five years as he found players stopped listening to him after that much time and… well suddenly (and why am I surprised) Sir Alex knew exactly what he was doing! Archie Knox leaving (but significantly returning in time for the move to Old Trafford) then moving on. McLaren being touted for the England job, Quiroz to Madrid, sacked, back to Utd, left for the Portugal job, sacked, Phelan latterly being touted as a future England manager while Ferguson was still there. The wily old fox was 'promoting' them out of the club when it was time for a shake up…
You can take the boy out of the fanzine…
Anyways, for me McInnes was the best Aberdeen FC manager since Sir Alex Ferguson bar none. I was a season ticket holder when Porterfield was manager (the first manager after Sir Alex). Because I just can't let go, and my time as a young man drawing cartoons for The Northern Light fanzine and The Press and Journal during the Alex Smith Jocky Scott era is burned into my soul, I have, by law, to point out Alex Smith was a careerist waste of space.
First employed by Porterfield as a coach as Porterfield was fishing to see if he was going to get sacked, Smith inherited Sir Alex Ferguson's team, (via Porterfield), that included Willie Miller, McLeish, McKimmie, Robertson, Grant, Connor, Bett, Simpson and Charlie Nicholas. Booth and Jess waiting on their chance in the reserves. There was also millions to spend (the Ferguson legacy cash), and Smith spent it alright, and the wage difference between The Old Firm and Aberdeen was nothing like what it is now. That is not in any way comparable to what McInnes inherited or had to work with, and if you disagree, with the greatest respect, you are just wrong! (I will not let that careerist old fraud write his own fucking history and go down as some sort of legend, and if Alex Smith is your hero or that was an important part of your childhood you should be thanking me for burning your misremembered memories to the ground. You're welcome).
Today should be all about McInnes. (as if someone else moved in onto Smith!) It was time for McInnes to go, and it was largely brilliant. I genuinely didn't think our club could be revived, without wishing to be overdramatic, it was so close to death when he took over.
Let's see what the future holds for us. Do the Aberdeen directors have the vision of Chris Anderson and Dick Donald. Could start by naming the South Stand after Chris Anderson. It's about time.
One last thing I noticed on McInnes recently, when we won the League Cup, any photos of McInnes with the cup, he is holding it Willie Miller style! Arms out. Google it. He knew what he was doing. When he said he loved our club, I think he really meant it!
I hope that isn't damaged. All the best Dek!
Got to end with some memes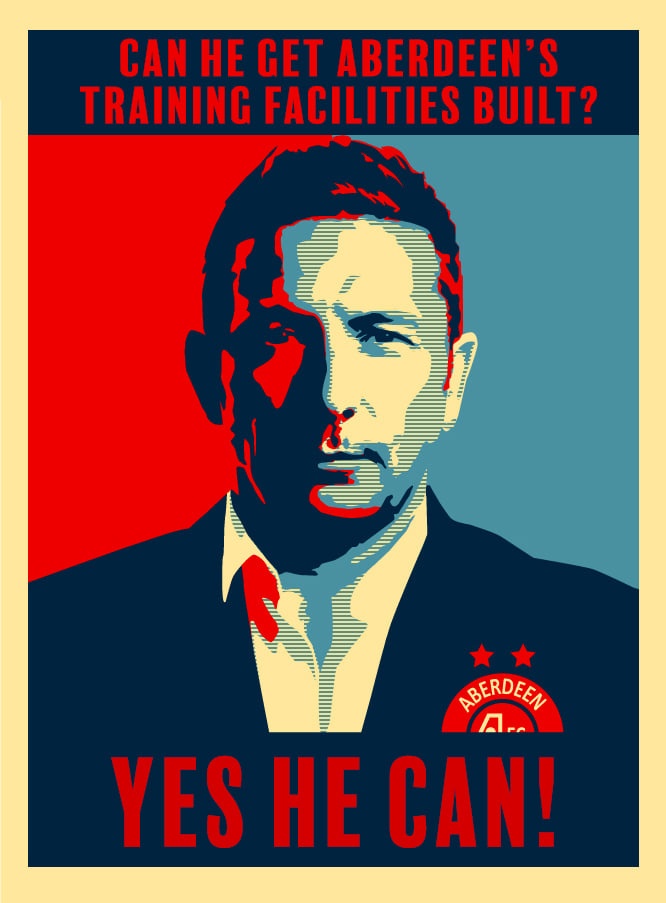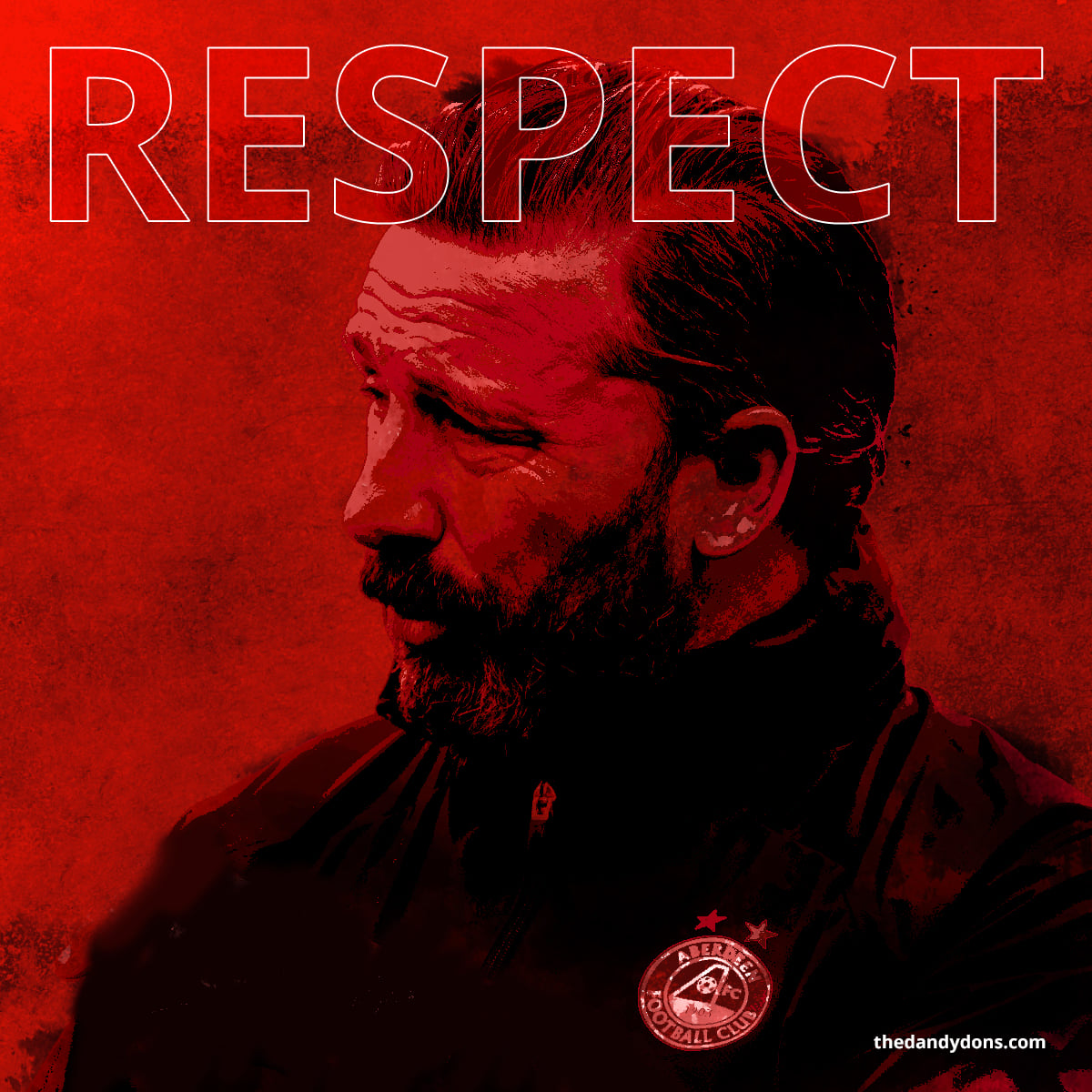 Posted on The Dandy Dons Facebook page just after he left, became the biggest ever post on the page by a multiple of four. Most likes, most shares and biggest reach (over 120,000 by the end). It was a re-post and Facebook reach for the page was considerably bigger 4 years previously.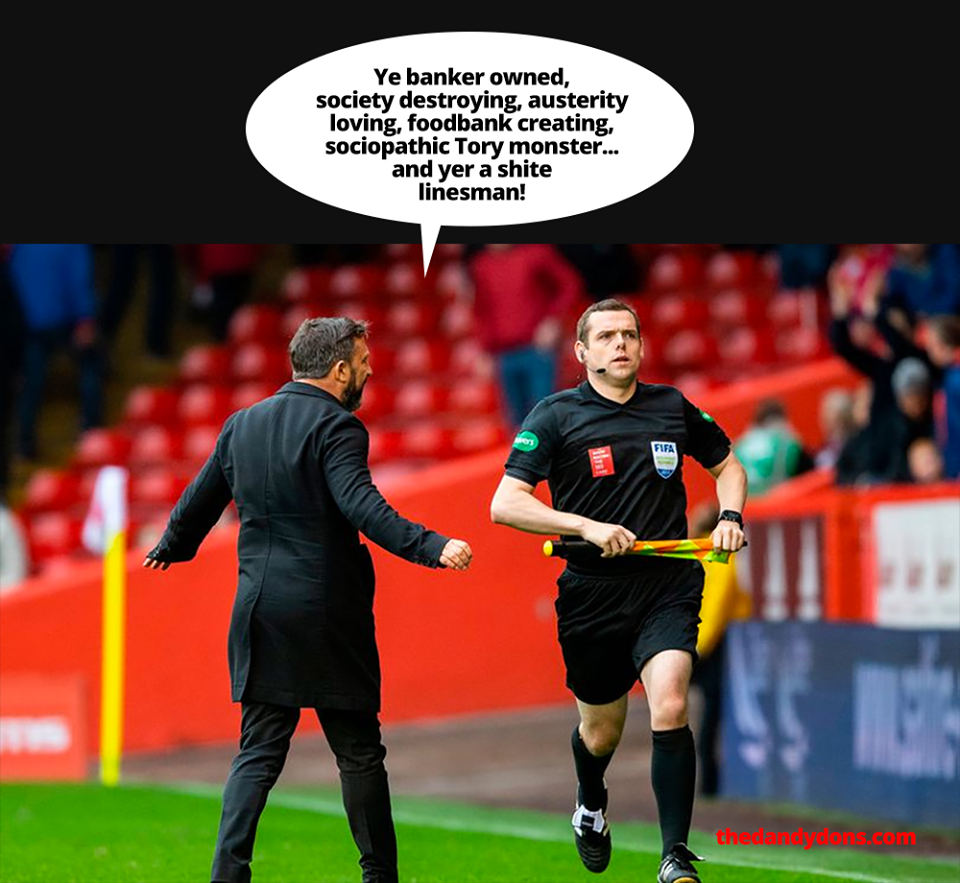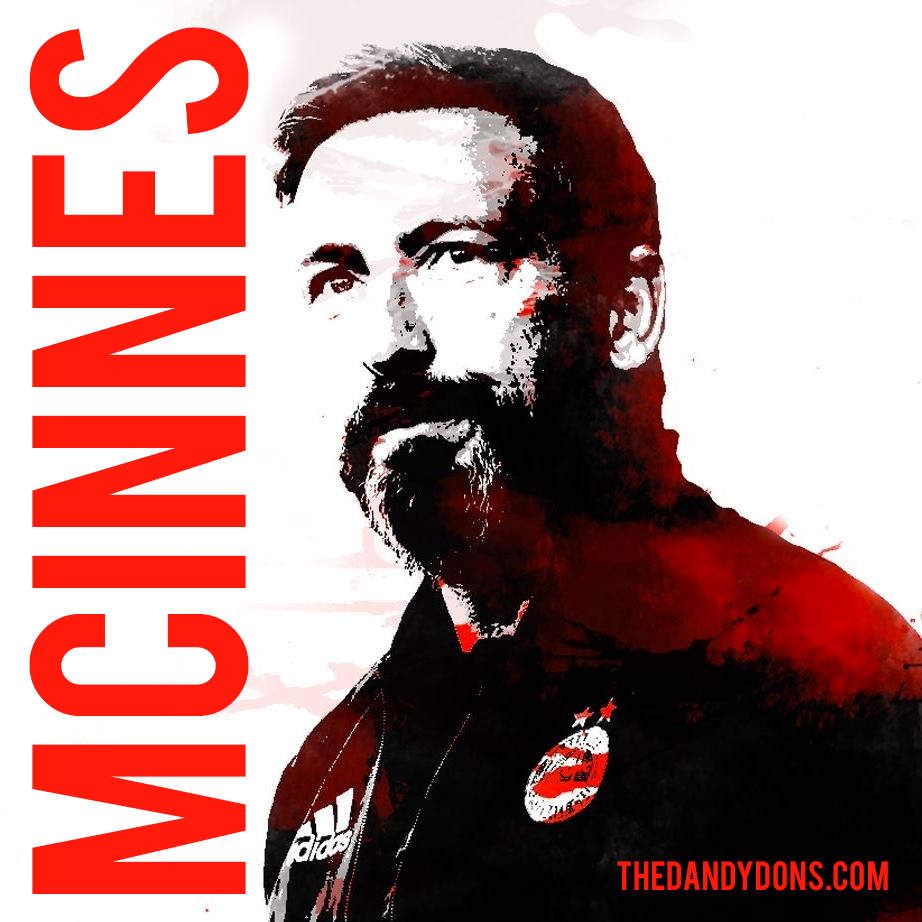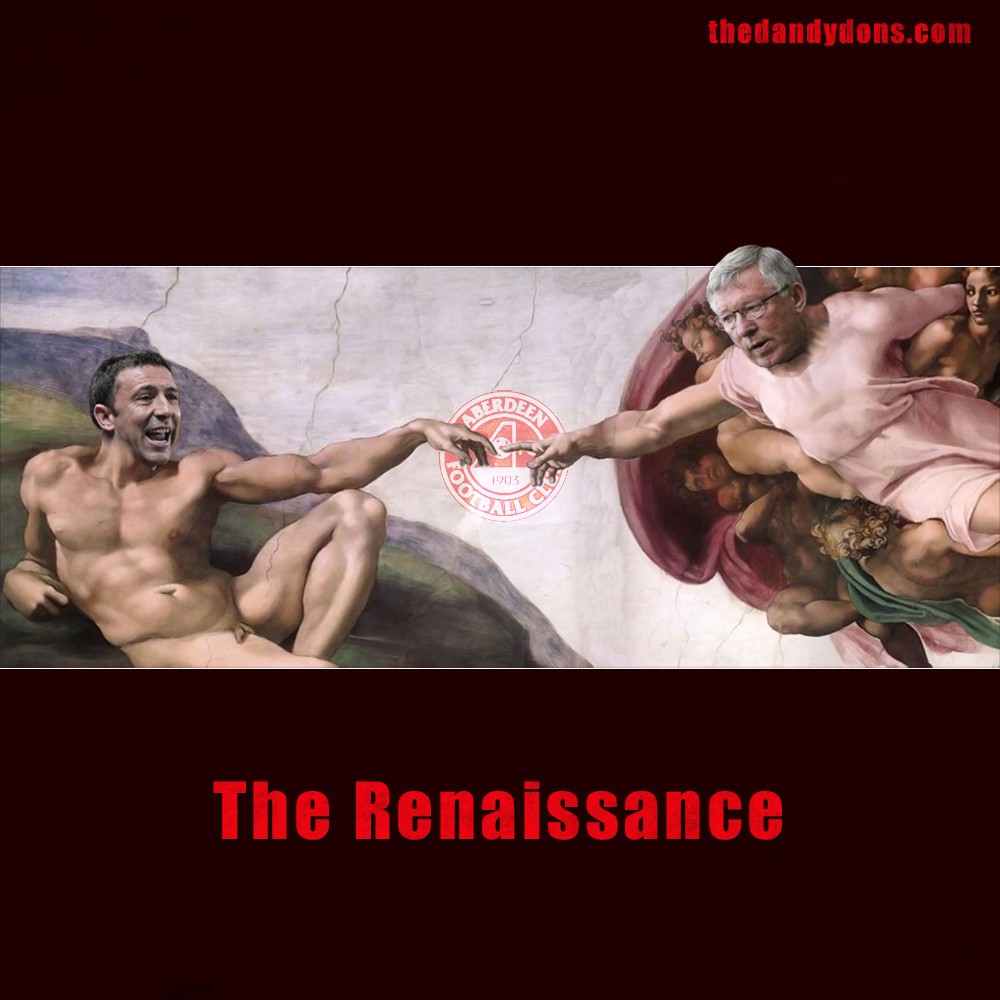 It was a cold day at Pittodrie!