Ash Taylor a fascinating bit of people watching

I don't have a strong Ash Taylor opinion. We've signed a squad player, probably Reynolds replacement. It makes sense if you are a football manager, if you have worked with someone, you know what they are like. There are always unknowns with a new person, however much research you do.
One observation on Ash Taylor, that may be complete nonsense, that relates to McInnes and looking to understand his methods, is Ash Taylor's physique. He isn't just big, he's an athlete. Look at Shay, the fun guy, the joker, look at his physique when he takes his shirt off. Considine, Stevie May is another one, none of them in my exceptionally ignorant opinion, enjoy a pint or six after training. Nor do they enjoy the occasional mock chop supper. They are athletes who take their profession incredibly seriously. All day, every day, to be in peak physical condition.
I guess wherever you are in terms of talent, if you are as dedicated to your job as to always eat correctly and train at 100%, that GPS that's on their backs means they can never shirk in training, never hide, never quietly nurse a hangover while going through the motions, you bring a certain amount of professionalism to a team than an exceptionally talented but less dedicated person may bring.
What sort of team while performing badly as they did last season would still get to a cup final and a semi-final? A very, very fit, very disciplined one.
Social media watching
But fascinating, to me in the signing of Ash Taylor, has been watching the Aberdeen FC's support reaction. Football is about opinions, how boring it would be if we all agreed.
There is a fair bit of negativity about Ash Taylor on social media. Where there is negativity it is incredibly strong. There is an element who truly do not rate him, and are very vociferous in their pronouncements. They are as entitled to their opinions as anyone else. As I remember it was the same when he played. A very significant element didn't rate him.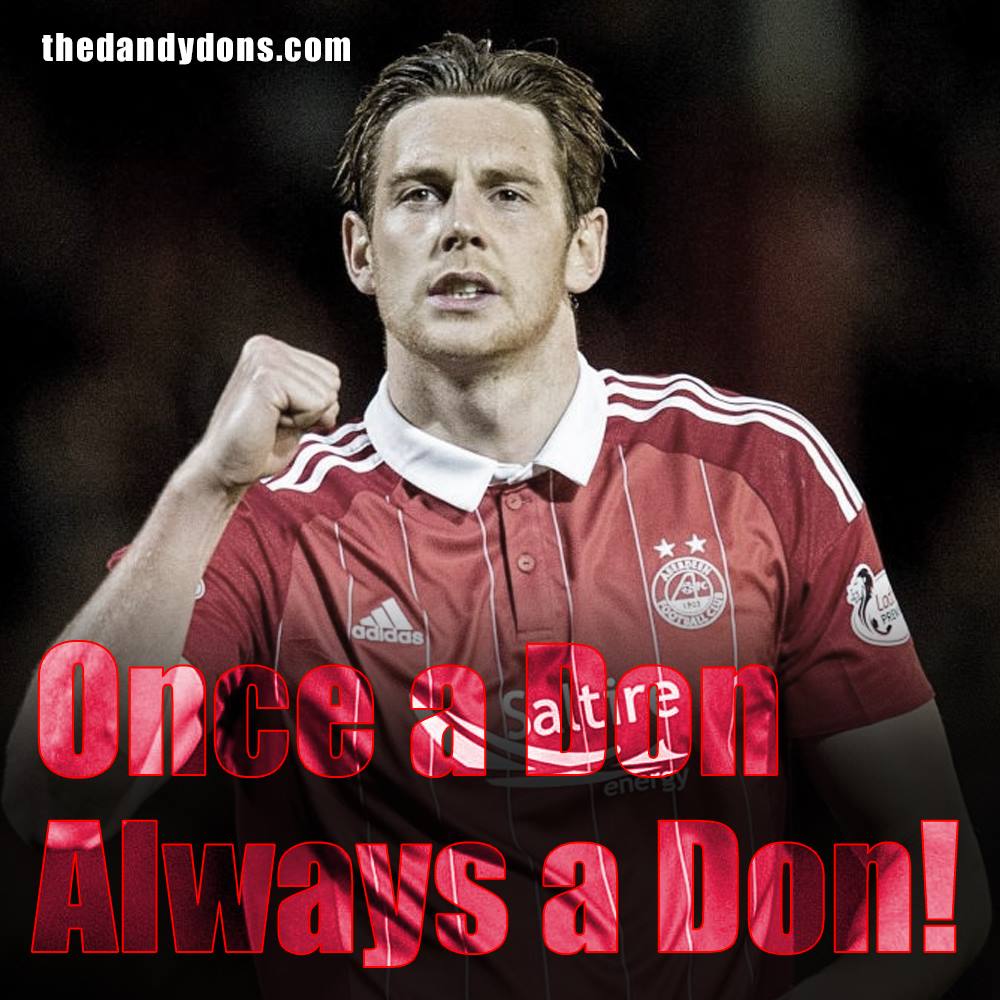 When I posted this pretty insignificant meme, when he left, it picked up over 500 likes on the Facebook page. That surprised me at the time. The longer working with social media, you get a feel for reactions. What is, and isn't expected. He was considerably more popular than I thought.
I posted it again when he re-signed, and said 'this got 500 likes when he left, no pressure'. At time of writing it's sitting on about 430 likes. Two years on and Facebook's algorithm has dramatically changed, it's harder and harder to reach the page's audience without paying for the privilege, (thanks Zuckerberg, just how many billions do you need?). This makes the new post, much bigger, much more popular than the one of two years ago.
What does that show in this very unscientific study? What I have learned from social media is the Aberdeen support like positivity. A positive post will always be a far more successful post.
I'd say the much more silent majority of the Aberdeen support, either quite like Big Ash the footballer, or will always back an Aberdeen player when they sign.
I also think this is a pretty good general rule on the Aberdeen FC support. Not a group of moaners, but in general a positive and supportive group of people who back their football team. Albeit they don't shout about it on social media.
Of those criticising Taylor, as I said they are perfectly entitled to that opinion, but some, a minority within that group, I stress again, a minority within the ones criticising Taylor, who are hoping he fails, hoping McInnes fails, who bandy about the phrase 'happy clappers' to go after elements in the Aberdeen support, are people who in my opinion, badly need to feel superior to the people around them. This oozing sense of superiority they so need, as they are, as any psychologist would say, just fucking arseholes.
You might like this https://thedandydons.com/the-cup-winners-cup-1983-important-facts/
https://thedandydons.com/wp-content/uploads/2019/06/ash-taylor-aberdeen.jpg
500
1200
Dandy
https://thedandydons.com/wp-content/uploads/2021/07/dandy-logo88.png
Dandy
2019-06-05 15:46:30
2019-06-05 17:48:02
Ash Taylor a fascinating bit of people watching