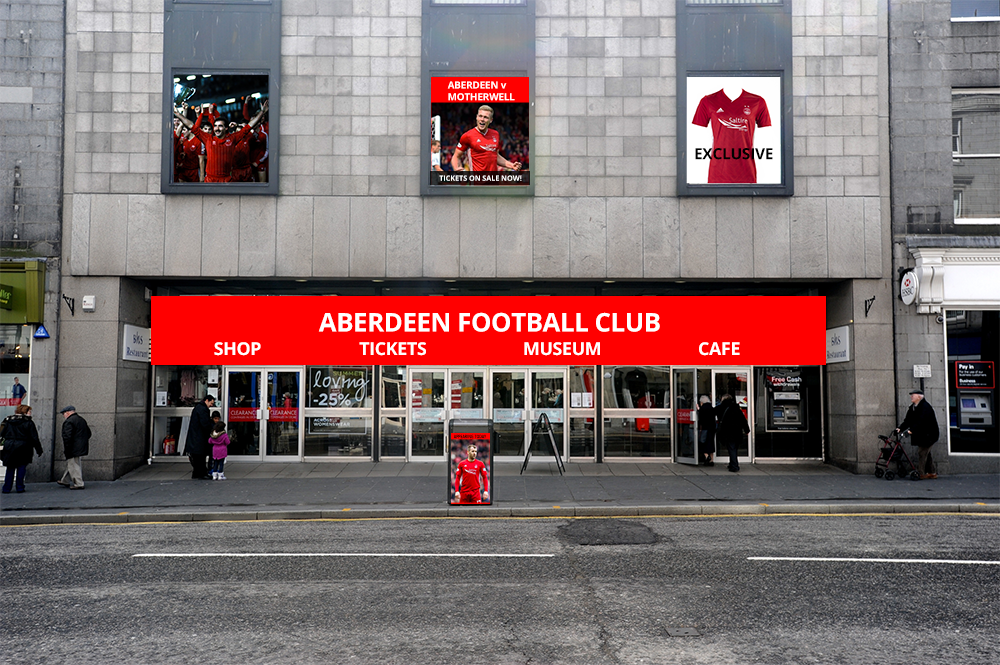 So the last article upset a good few people. https://thedandydons.com/the-aurora-video-seriously/ Never my intention, happy to admit I worded things wrongly, albeit not intentionally. I believe the core part of my point is worth explaining a bit deeper. With my own mock-up. And changing the scenario a bit.
It's all about business. Currently Pittodrie is a one day in fourteen business. A game every second week, that brings in lots of people and money, the bulk of which is the 15 million per year turnover of the club. The core Aberdeen FC business.
Included in Pittodrie is the Aberdeen FC shop, and the ticket office. Both of which contribute to the business, but their real busy days are match day. When the shop in particular is incredibly busy. Due to lack of space, there is no Aberdeen FC museum or cafe.
A fair walk up the road from Pittodrie, is a very busy street called Union Street. Where there are countless bus stops, a train station, a harbour, and a bus station nearby, as well as hundreds and hundreds of shops. Some on Union Street, some in shopping centres, all of which contribute to a very busy section of the city of Aberdeen, and the North East of Scotland. Thousands of people are in the vicinity every day, some of whom will have travelled quite a distance to get there.
So the point of my 'Aurora seriously' article regarding the museum, the cafe, and the shop, is whether Aberdeen FC play football at Pittodrie or Kingsford or somewhere else, why on earth isn't the cafe, the museum, the shop, and the ticket office in the centre of town? If situated there, they could become a seven day a week business earning far more money for the club, as well as advertising games, and leaving a footprint on the city it shares a name with.
Aurora could still have a museum, I'm sure there will be plenty stuff, and a cafe and a ticket office, and they could use their staff from the seven day business for the one day in fourteen business.
My real point of irritation though, is they could be open now, open five years ago. The kids getting a photo with Angus the Bull, players dropping past for guest appearances. Buy a coffee in the cafe and help the club. They could even open a bar. That there aren't Afc strips available near Union street is shameful. The strips are adverts for the club. Tourists are not finding their way to Pittodrie.
For anyone wishing to point out there was a shop before that didn't work. It was shut under Patterson. When we were failing on the pitch. There wasn't a museum, a cafe, or the ticket office there either. And rentals in town are much, much cheaper than back then.
Also the museum would be run by the Heritage Trust. Which has charitable status. So no business rates for that part of the operation.
It's not a clever idea. It's an obvious idea. But it's not happening as Aberdeen Football Club is run by someone only interested in new building projects.
https://thedandydons.com/wp-content/uploads/2019/10/aberdeenfc-shop.png
665
1000
Dandy
https://thedandydons.com/wp-content/uploads/2019/09/dandy-dons-logo.png
Dandy
2019-10-14 18:50:57
2019-10-14 20:29:40
The Afc museum, shop, cafe - a better explanation