Why Steven Gerrard can't get no satisfaction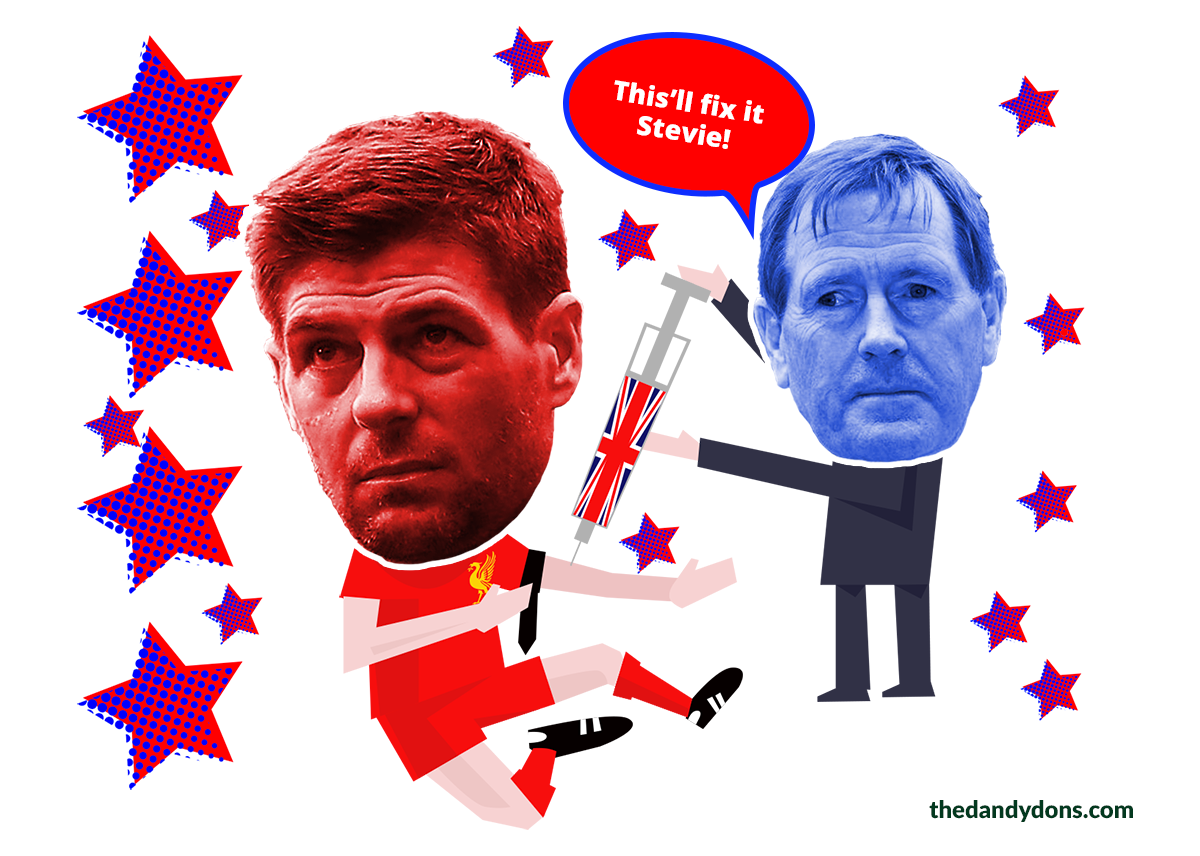 So Steven Gerrard is the new manager of The Rangers. A bit of an odd decision for a number of reasons. And as 99.9 percent of the Scottish mainstream media can't say anything negative as their tongues are so far up The Rangers arses at any given time, I'll give it a shot.
Interesting on so many levels. A club who's very short history includes throwing season ticket selling appointment Joey Barton under the bus, just as soon as the season tickets were sold, and they wanted that expensive contract cancelled. Their treatment of their previous managers in their exceptionally short existence didn't appear to involve backing them under pressure, or showing support. In fact they were regularly undermined, and sacked, the second the heat was on the directors.
There is so much that could be said on so many different aspects of Gerrard's decision. In terms of any career strategy, his possible understanding of the job and club, why for example did he not just wait for the England job come August? Southgate will be sacked after the World Cup, and there are so few top English managers. Ryan Giggs cottoned onto you can get away with being bad at management a lot longer at international level. A lot less games.
But it's Gerrard's psyche that interests me. A world class footballer, twelve months after retiring. What sort of person would Gerrard be, on a human level. What must it be like to have been so special since you were a teenager, so coveted, so adored, every time he walks into a room, he's the star, he's important, there will be whispering, there will be awe, always everywhere he goes. There will be abuse from opposition supporters, but only because they rated him, feared him. It's been like this for him for more than twenty years.
Not just Gerrard, lots of great footballers of a generation now dealing with the come down. Ryan Giggs, David Beckham, Rio Ferdinand, truly great, legendary players, people with enormous talent, and incredible work ethic who have deserved all the plaudits, all the money, and then one day in your mid thirties, it's over, you're not important anymore. How's the boxing career going Rio? That Deadpool trailer filled a day eh David…
What they must have experienced must be incredible. Like nothing most of us can even imagine. Years ago I went to a Barcelona match at Camp Nou for a standard La Liga game. I stood on the street before the game quite a bit from the stadium, just looking at the architecture, the crowds heading in, and thought, how on earth can the footballers deal with this. Arriving for a game at this coliseum. The pressure, the expectation, the sheer incredible scale of it all. I felt nervous for them. Those at the top learn to deal with it, and thrive off it.
When they start out as footballers, they are just kids, not fully formed, emotionally, intellectually, they don't know who they are as people yet. Their whole personality grows around that lifestyle. And they can work as hard as they can at humility, and gratitude, expressing how lucky they've been during their careers, but nothing can really prepare them for when it's over.
There's no longer a murmur when they enter the room. No buzz, no adrenalin shot.
How does that affect a person, when it stops. Retired footballer. Football coach. After dinner speaker. TV studio pundit spouting cliches. The guy who used to be.
They would do literally anything to get back in that spotlight. Be the main man again.
Let it bleed
I was watching a stand up show on Netflix  last week, from a comedian I hadn't heard about before. John Mulaney, Kid Gorgeous at Radio City. He touches on famous people's personalities, and perceptions of what is nice behaviour. It's a stand up routine, not a psychologist's academic paper.
It's a good show, you might like it, he tells a story about when he was a writer on an episode of Saturday Night Live, the US topical sketch show. Mick Jagger was to be appearing as special guest. He spent a couple of hours working in a writers room with Jagger.
He asks, do you think Mick Jagger is a nice person? Someone who every time he stands on a stage, is told by everyone that he's amazing, and has been getting this treatment for fifty years.
Of course not, he's horrible. How could he not be. And it's not a judgement on Jagger, it's a judgement on how a personality becomes, after a lifetime of being treated like royalty.
Like royalty.
So maybe that's why Steven Gerrard chose that club, that job…
The Happy clapper article that got the Twitter lot after me.
The history of art-Dandy Dons art.
The Dandiest front page ever.
https://thedandydons.com/wp-content/uploads/2018/05/steven-gerrard-the-rangers.png
856
1200
Dandy
https://thedandydons.com/wp-content/uploads/2021/07/dandy-logo88.png
Dandy
2018-05-17 22:41:53
2018-09-10 16:38:40
Why Steven Gerrard can't get no satisfaction