Watching Man United doing an Aberdeen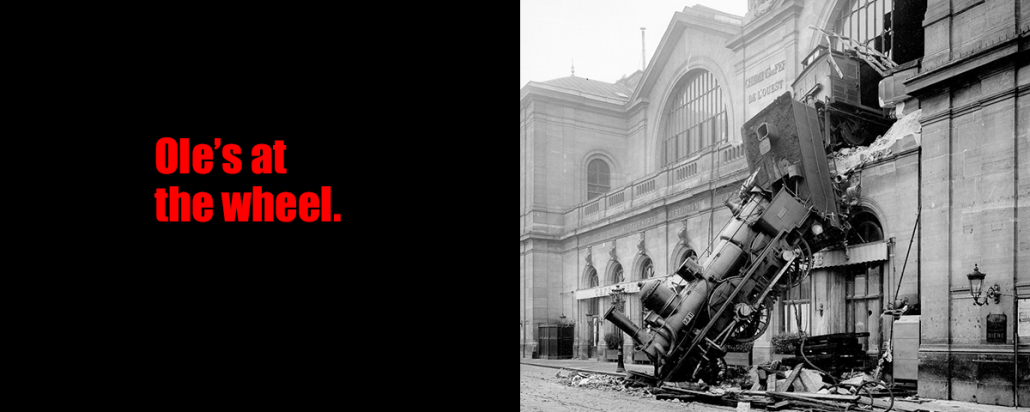 In life you should learn from your mistakes. If possible, better still, learn from other people's mistakes. We are currently in the joyful position of watching others, make the same mistakes we made.
If you are an Aberdeen supporter who also supports Man Utd, well my sympathies. For me I've always been a one club man. I don't judge others who have a liking for Utd, Barcelona, Juventus whatever, it just doesn't work for me. If as an Aberdeen supporter you have stopped liking Man Utd, and started liking Liverpool recently, then I am judging you…
Years of watching Sir Alex Ferguson led to years of watching Man Utd. Now we get to see Man Utd post Ferguson.
Reactionary managerial decisions
One of the mistakes Aberdeen FC made repeatedly during the decades of trying to find a football manager was making a decision based on the previous football managerial appointment.
Alex Miller was probably the first of these reactionary decisions. We'd just gone through Willie Miller and Roy Aitken (young inexperienced managers) and that didn't work, 'we needed an older, experienced manager'. Hello Alex Miller. Anyone who saw his Hibs team (he was sacked after Hibs supporters campaigned to have him removed) knew it was not just a mistake, it was a shocking decision.
Now we'll have a foreign manager. Announced in advance before they had found someone. After that, now we'll have a Scottish manager (again, announced in advance). Followed by any old crap in desperation, usually from Motherwell, until finally, and definitely not sheer blind luck, definitely not, Aberdeen got a managerial decision correct. (I'm sure we'll be getting them all right in future, now they've got the hang of it, that's how these things work).
So Man Utd, on the back of internationally renowned, experienced managers Mourinho and Van Gaal not working, what went through someone's head at Old Trafford. 'We need a young manager, with Utd in his blood'. The exact opposite of an older experienced outsider manager. Reacting to what was perceived to be wrong before. A reactionary decision.
As opposed to, say, the best person available.
And then there's the assistant. We know the manager's not good enough, so we'll bring in an experienced, big name assistant manager. As everyone knows a not quite good enough manager, with a great assistant, adds up to a brilliant managerial team. Sadly they didn't announce Solskjær and Phelan as co-managers. Then we'd really be through the looking glass.
A reminder of the series of 'geniuses' who were Ferguson's assistants down the years. Brian Kidd, Steve McClaren, Carlos Queiroz (twice), Archie Knox, and Mike Phelan. All of them praised to the skies while at Utd. It was regularly implied not only were these people crucial to Ferguson's success, it may all have been down to them.
Weirdly when they left for jobs to do their own thing, the magic seldom, almost never, went with them, yet even more weirdly, pretty much always, stayed with Sir Alex. Funny that.
The 'highly rated assistant' is a bit like a recommendation on Linkedin. Worthless. Would everyone please remember this when an Aberdeen vacancy comes up and the name Eric Black gets mentioned. Love the man to bits, but he's just another 'highly rated assistant'. And he wouldn't be bringing his boots, or be 21 years old anymore.
Back to Fergie
When Alex Ferguson got the Man Utd job, he'd won the Cup Winners Cup and Super Cup with Aberdeen. He was nearly sacked in the beginning at Utd, but if a manager has done something special, something exceptional, they deserve a little more time. It wasn't that brave a decision to have kept him in the job.
Solskjær did well at Molde in Norway, and failed badly at Cardiff. One of the world's wealthiest clubs taking a hell of a risk. I don't bet, but if I did, I'd be looking at the odds on Solskjær being sacked before Xmas. (This was written just after he got the Man Utd job in April)
And for Aberdeen, when McInnes goes. Do they already have their eyes on possible replacements? They should always be ready, and they should always have back ups, and they should always be updating their monitoring of prospective managers. It's literally the only job they need to get right.
And no, don't any of you dare mention Eric fucking Black.
__________
https://thedandydons.com/wp-content/uploads/2019/04/ole-3.png
630
1200
Dandy
https://thedandydons.com/wp-content/uploads/2021/07/dandy-logo88.png
Dandy
2019-04-26 17:31:38
2019-10-07 19:45:33
Watching Man United doing an Aberdeen