Charlie Nicholas and the flatmate from hell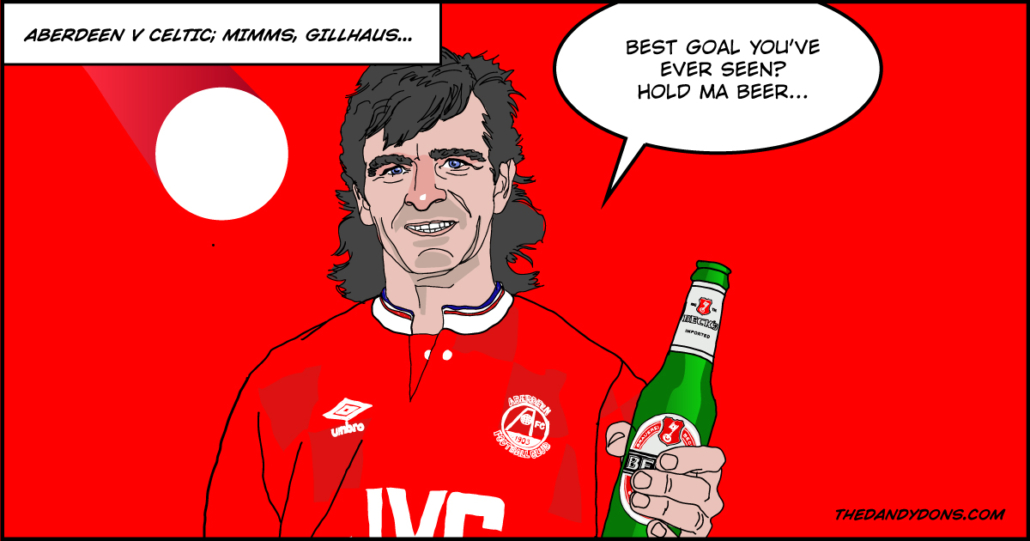 It's all very well wallowing in the brilliance of Charlie Nicholas' goal against Celtic, that hit the back of the net without touching the ground from the keeper's hands, without mentioning the rest of the game. 
If you were at that game, you remember that goal. I've been to lots of games I remember almost nothing about. This game I remember.
I had this flatmate Kev from Essex. A post grad something or other. Kev was a Gooner (Arsenal fan). Kev was so laid back to be almost asleep. Kev had an incredibly dry wit and he knew how to wind me up no end.
He once said he thought sex was overrated in a nonchalant way, and he didn't really enjoy it. His girlfriend was stunning. I was single. He was that guy, and still infuriatingly likeable.
Kev would say 'Scottish football is rubbish', and 'never got what the fuss had been about Charlie Nicholas when he had arrived at Arsenal anyway', 'He was supposed to score all these goals…', 'just because he scored in a cup final', 'always thought he was shit'.
I won't take the bait, I won't take the bait, I won't take the bait…
I took the bait, and then off he'd fuck to his room, having riled me up, and him still as calm as the proverbial cucumber.
So me and Kev were at Aberdeen v Celtic. Bobby Mimms kicks, Gillhaus' head, over Charlie's shoulder, BANG. Pittodrie erupts. I erupt. On my way back down from ten feet in the air, I remember what was really important at that moment. Amongst all the celebration in the South Stand, I turn to Kev, look him straight in the eyes, and nod, THERE!
This goal.
Thanks to that goal, I have won. Scottish football is not rubbish, it is fantastic, Charlie Nicholas is a brilliant player, and Aberdeen are by far the greatest team the world has ever seen…
Of course Kev doesn't respond, as he is too laid back to show any emotion, but there is a hint of defeat on his face. All I needed for victory. So I sit back and wait for Aberdeen to kick on. A packed Pittodrie, Gillhaus and Charlie have just combined for that goal, let the show really begin.
They did literally fuck all the rest of the game. With every passing minute, I could feel my victory slipping away. Celtic equalize. Maybe this will wake them up to kick on. They'll hit the 'total football button', and push on to a brilliant victory against a pretty piss poor Celtic team.
Did they fuck. I'm not sure if Charlie Nicholas even touched the ball again that game. Like a collection of mercenaries who believe they'd done what they were paid for, and are just going through the motions.
As the game goes on, I stupidly glance towards Kev. The hint of a smug little grin is back. No words are being spoken, he doesn't need to. I'm getting angrier and angrier. With Scottish football, with Charlie fucking Nicholas, with that bastard Kev. 
Training days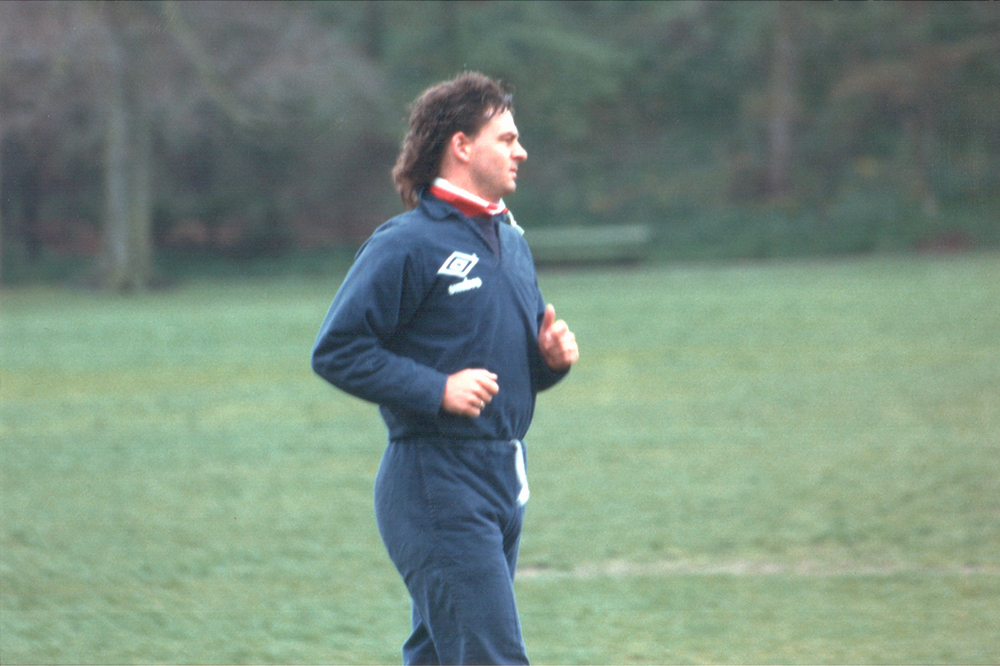 Charlie Nicholas training at Aberdeen. You see if ye tuck yer sweatshirt intae yer troosers, yer gonna look a wee bit fat there Charlie.
I took this photo when I was an art student. I got permission from the club. A letter from Ian Porterfield himself! The idea was I'd take photos with a view to an illustration project. Little bit of a problem, despite having borrowed a zoom lens from a fellow student (nothing like what the pros use) being a shy young fella, I didn't get close enough to them, for it to make any difference.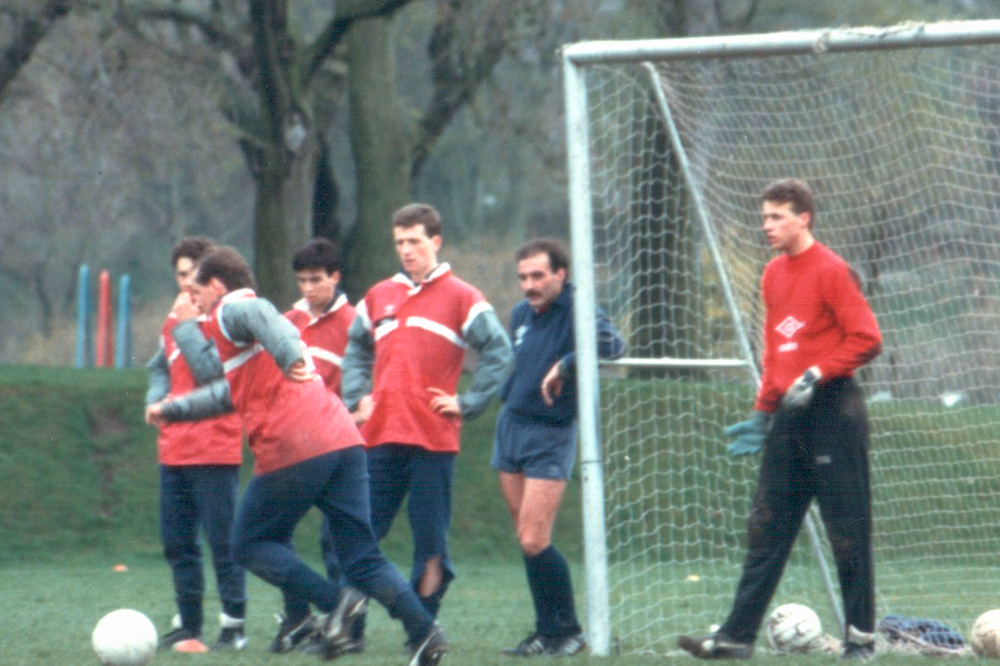 Yeah, the coolest man on the park, the coolest man in the world…
Peter Nicholas on the ball (he would shortly leave for Chelsea). Not sure the two behind him. Big Bri, Wullie, and a young Michael Watt, who was third keeper then. I remember a huge cheer from all the players after a good save. I think probably very new to first team training.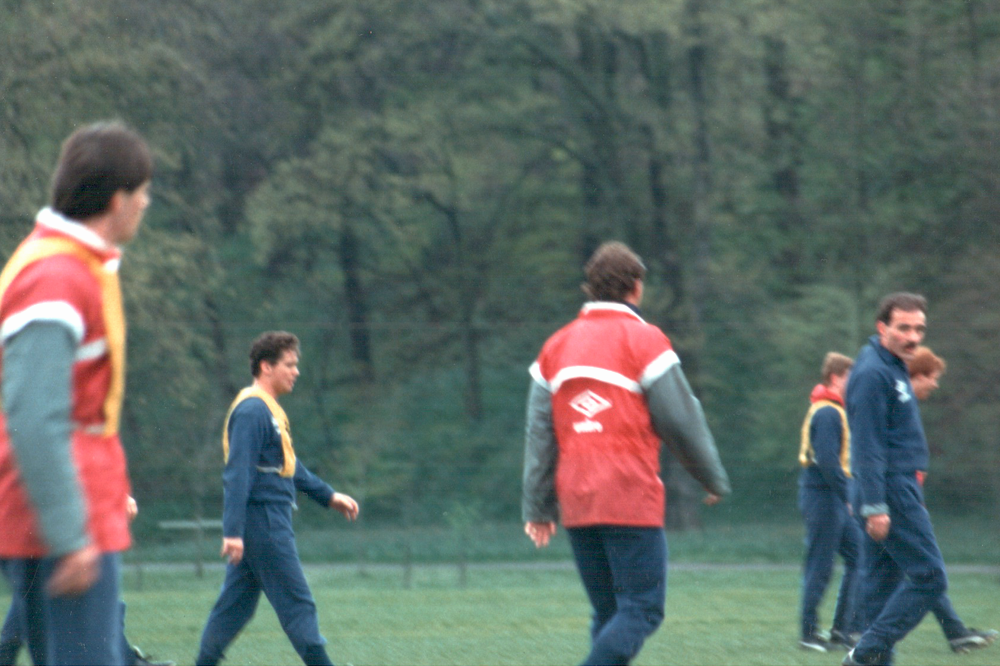 I lost about a half a stone that day from the sheer anxiety of the experience.  I don't think Wullie was impressed with the far off, anxious looking art student in his torn denim jacket… I suspect the great man knew I was using the wrong aperture and shutter speed, and was too far a f*cking way.
Tom Jones, Paul Wright, Peter Nicholas, I think Ian Robertson, Willie Miller, Alex McLeish.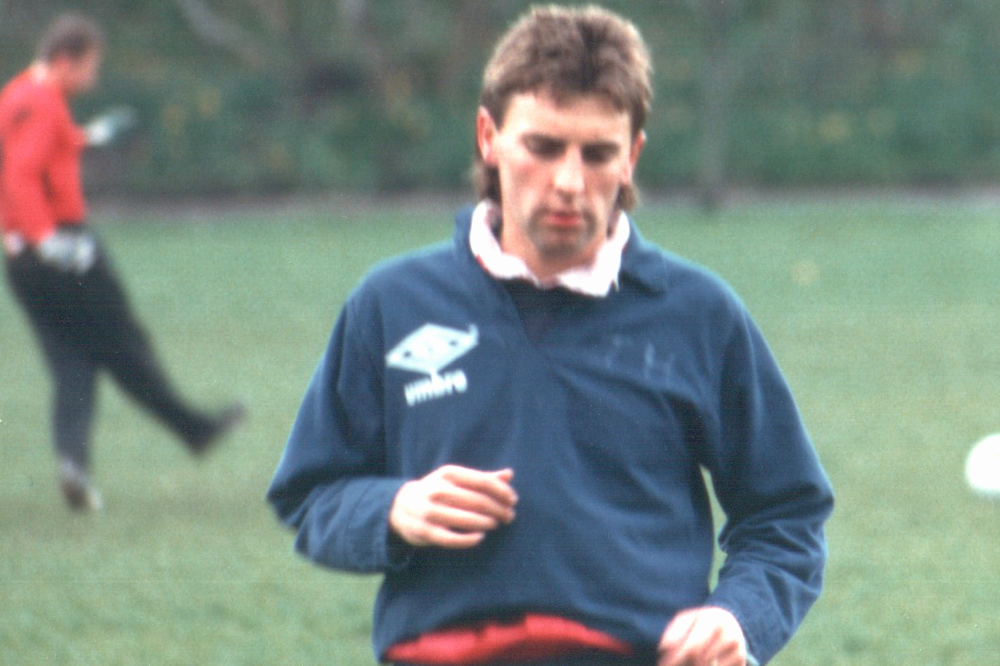 Aye is it. And the illustration project, well it took me a wee while, but that's it on the Facebook page.
https://thedandydons.com/wp-content/uploads/2020/03/charlie-nicholas.jpg
630
1200
Dandy
https://thedandydons.com/wp-content/uploads/2021/07/dandy-logo88.png
Dandy
2018-10-03 21:18:33
2022-11-22 11:39:53
Charlie Nicholas and the flatmate from hell