"To protect your management status we will title it as co-manager and Drew will be the first team coach"
Alex Smith, a very long time after
Smiffy must go!
Smith was appointed first team coach by Porterfield who was clearly fishing to see if he was going to get the sack. Ever so nice club Aberdeen had never sacked a manager before. The way too weak Aberdeen directors let Porterfield appoint Smith. A few weeks later, they finally sacked Porterfield. Then were stuck with Smith. That's the level of competence that was governing AFC post Fergie, post the tragic passing of Chris Anderson.
I was contributing cartoons to the Northern Light fanzine and The Press and Journal during the Smith/Scott era. I was at the games, I was in the demonstrations. It put that time into sharp focus for me. The 'rewriting of history' after his sacking I always found odd.
That of course doesn't mean I am right about back then. It's fitba, it's all about opinions.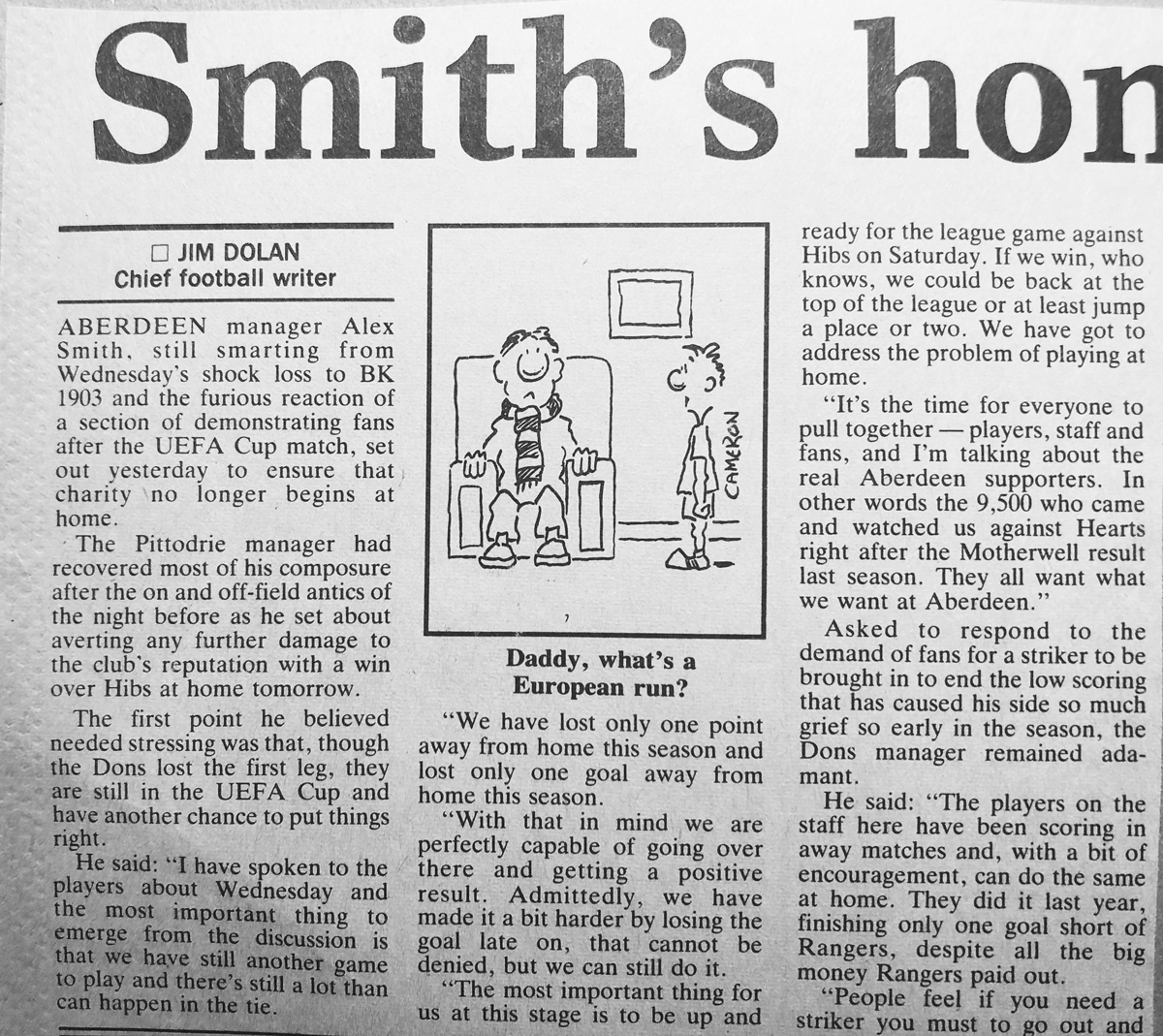 Strengthen your resolve
Alex Smiffy Smith. Let's get to it. Shit manager. Shouldn't have gotten the job. Co-managers, laughable compromise from people who didn't back either one, inherited the guts of Fergie's team via Porterfield, pissed all the money away. Largely bought shite, almost always from St Mirren. Crap tactics, crap substitutions, didn't develop talent at all, just played young players irrespective of whether they were any good or not. For Eoin Jess and Scott Booth, there was Greg Watson and Michael Watt, and quite a few others who shouldn't have gotten past one game. Was properly found out as Fergie's team was starting to age, he'd spent all the money and Jocky Scott left.
Career management
Jocky Scott's reputation suffered by not having the self publicity skills of Alex Smith. Football is unusual from most careers in that it is merit based, but after the event, career management comes into play. If someone doesn't have the skills they are quickly found out in football. Someone like Glass could undeservedly land a job through connections, just like in other careers, but he was found out very quickly and had to be removed. Through skilled self promotion Craig Brown has convinced most Aberdeen supporters he 'stabilised the club'. A quick look at Wikipedia, and he got a high budget SPL team consistently to ninth. Exactly what McGhee did. McGhee is seen as an abject failure, but Brown 'stabilised us'? Career management over actual ability. They were both very poor, equally poor, for us. But perceptions…
If you followed Smith's career afterwards the same patterns repeated, spent all the money, team doesn't improve, fans protest, Smiffy sacked, poor old Smiffy, blame those Aberdeen supporters. Oh and he was a self righteous prick. His greatest skill, the ability to keep landing jobs based on fuck all. And I can already hear the arguments. "That was the beginning of the end, that's where it all went wrong, sacking Smiffy, he won two cups, what we'd do for that now…" 
Alex Smith didn't win those cups, Alex Ferguson did. Without even being in the fucking building. Ferguson generated the cash that got us Nicholas and Gillhaus. Miller, McLeish, McKimmie, Bett, the spine of the team, Ferguson players. Ferguson's winning mentality flowing through their veins. Jess and Booth? The seeds on a quality youth system needed to be planted well in advance… guess who? Even the tip off of Theo Snelders, Paul Mason and the Dutch agent came from Ferguson, or he'd have signed Campbell fucking Money from fucking St Mirren.
Alex Ferguson is arguably the greatest manager there has ever been. Eight years at the club, he left behind a fair bit of inbuilt momentum. Those last two trophies were the bonus points from Ferguson's legacy. That legacy was burned away pretty quickly, and a lot of very bad investments were made. It was however the beginning of the end, only in the sense it's where TV revenues, and Bosman and the soon to arrive Champions League circus was going to rig football for a tiny elite of clubs transforming it to what it is today. The end of an era for football, not just Aberdeen Football Club.
If you know the history…
Appointing Willie Miller didn't work out (we finished second under Willie Miller twice, before it all went tits up). It could be argued he managed to reconnect the club to Fergie's momentum, that Smith had completely lost, and only came undone when McLeish and Bett moved on, the last of the great Fergie players, the spine of the team. Poor old McKimmie last man standing. You can understand his frustrations near the end. And history fans, no one was ever calling for Willie Miller to get the job. He was backed when he got it, but no one demanded he get it. The real catstrofuck was appointing Aitken (based on nothing, the internal appointment always the lazy option for directors) and the double catastrofuck the new contract for Aitken rolling into Alex fucking Miller (the start points of the Milne regime, after destroying the stadium with that stand and… probably best I leave that one there, he "saved us from ourselves").
Just because the directors during the post Fergie years, got pretty much every appointment they made wrong, doesn't for a second make the sacking of Smith wrong. He also was a bad appointment, as was Porterfield, based on weakness, laziness, compromise and incompetence from directors that continued pretty much right up until McInnes got the job. I'm sure from now on they'll get all decisions correct… (Update: we are in the future now, how's that one going?)
Who do they think they are?
Then you've got the media. A narrative developed that wasn't based on reality. Who do they think they are, hounding out this lovely man who won two cups? Important to understand the Glasgow media hated the Fergie years. Their sectarian peddling darlings were humiliated regularly, and Fergie would regularly get it right up them. Once Fergie was gone, it was open season on Aberdeen. The Simpson Durrant tackle (a story still going – no other bad tackles in Scottish football ever?) was another chance for their revenge.
There were hundreds of people demonstrating outside Pittodrie to get Smith removed after a number of games. Crowds were low because the football had become so poor. Those demonstrating were the hardcore support, who were at all the games. Prepared to stay behind after a game they felt so strongly about how bad he was. Jocky Scott had already left the club.
Alex Smith was sacked by St Mirren prior to Aberdeen, after supporters started demonstrating for his removal. He would go on to do literally nothing as a football manager anywhere after Aberdeen. Sacked again and a again. The narrative that Aberdeen made a terrible decision pumped out by a media not fit for purpose.
Smiffy's sacking
Alex Smith was sacked after Jim Dolan in The Press and Journal (the only place for Afc info back then) took him apart in a quite brilliant, and deserving take down after what would become his final game. But ultimately he was sacked at Aberdeen, just like at most of his jobs, as he was a shit manager. He also did a lot of media in the days immediately after the sacking. This got him an enormous amount of sympathy as he immediately began controlling the narrative with an easily compliant Glasgow media.
And I would just leave it, but his career management skills has him appearing very late in the day to say Jocky Scott wasn't actually co-manager, and the laughable narrative of what he would have done had he not been sacked is a joke. It is the equivalent of someone saying in three years time, 'if only we'd given Stephen Glass more time', then it gets repeated a couple of times by a few people, and then suddenly it's a fact. 
If paying football supporters ever demonstrate against a football manager, using their time to stay at a football stadium after a game, and do it repeatedly, it is because that manager is shit, and should not be in the job. Everything else after the event is people who were not at the games, or a media narrative that is a nice opportunity to take a pop at Aberdeen supporters.
If your memory remembers total football, sunshine and Dutch internationals, yes, there was a period where it worked. The inheritance of Fergie's team (via Porterfield), the money to spend that was the Fergie era profits effectively (that was spent with indecent haste and with no thought for potential resale value – we signed Gillhaus (little or no resale value), PSV signed Romario – world record fee to Barcelona) and then it all went to pieces because he wasn't a good football manager, massively accelerating as soon as Jocky Scott left.
It is important no one's career management writes Jocky Scott out of that era, however hard someone may try.
Lights out
This next content I have no right to reproduce here. They are from one of the final Northern Light's before Smith was sacked. However the article first left, is about me. Cheers guys! Particularly for spelling my name wrong. The article to the right of that, is quality. More importantly, these pages give a sample of that last eighteen months of Alex Smith, also of the real quality of The Northern Light. TNL wasn't just a fanzine, it was a brilliant one, and was highly praised within what was a huge UK wide movement at the time. Pre internet, pre radio phone ins, pretty much the only outlet for supporters' opinions.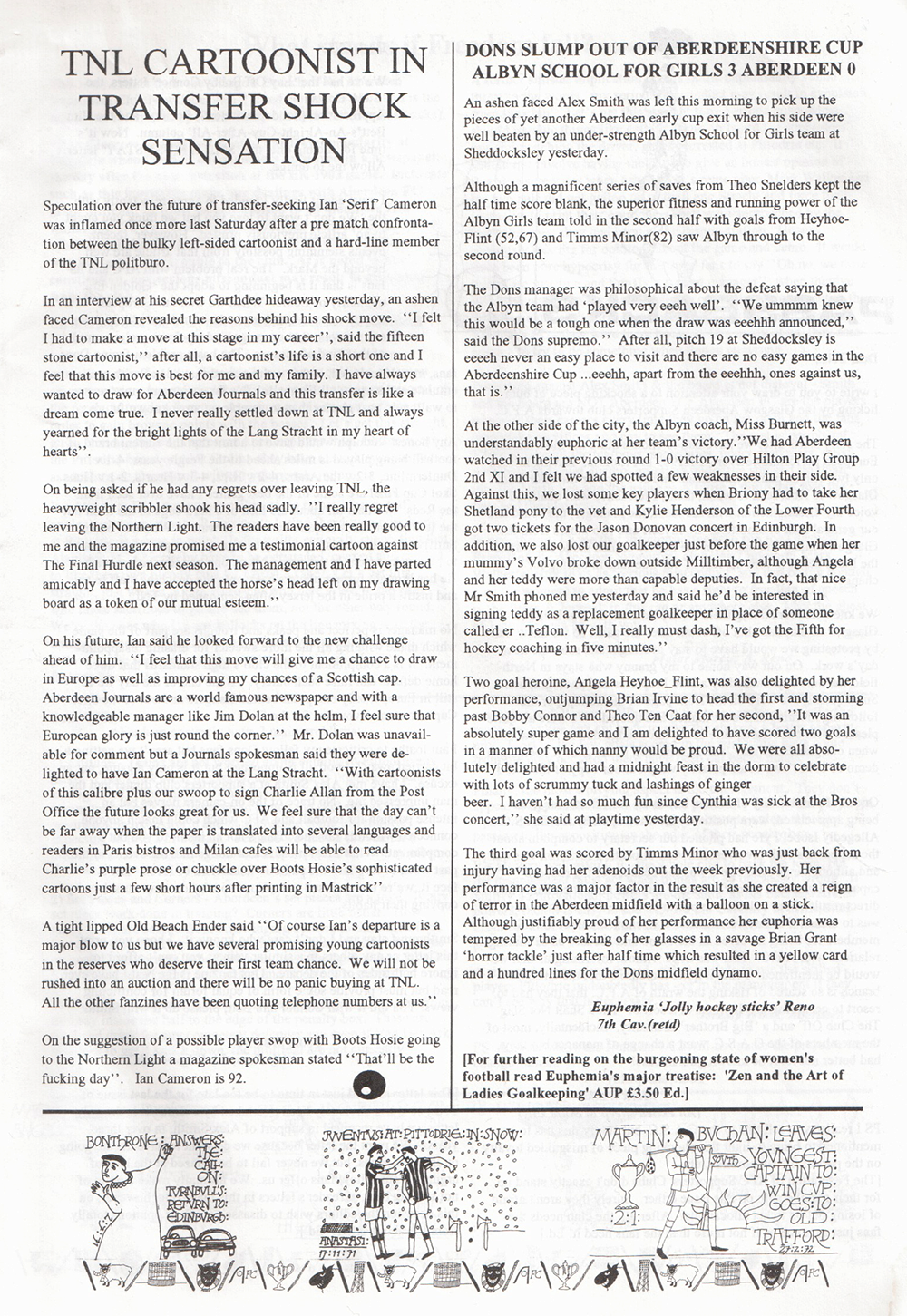 https://thedandydons.com/wp-content/uploads/2018/10/alex-smith-northern-light.png
750
1000
Dandy
https://thedandydons.com/wp-content/uploads/2021/07/dandy-logo88.png
Dandy
2019-04-27 19:21:10
2022-09-21 15:47:44
Smiffy must go!