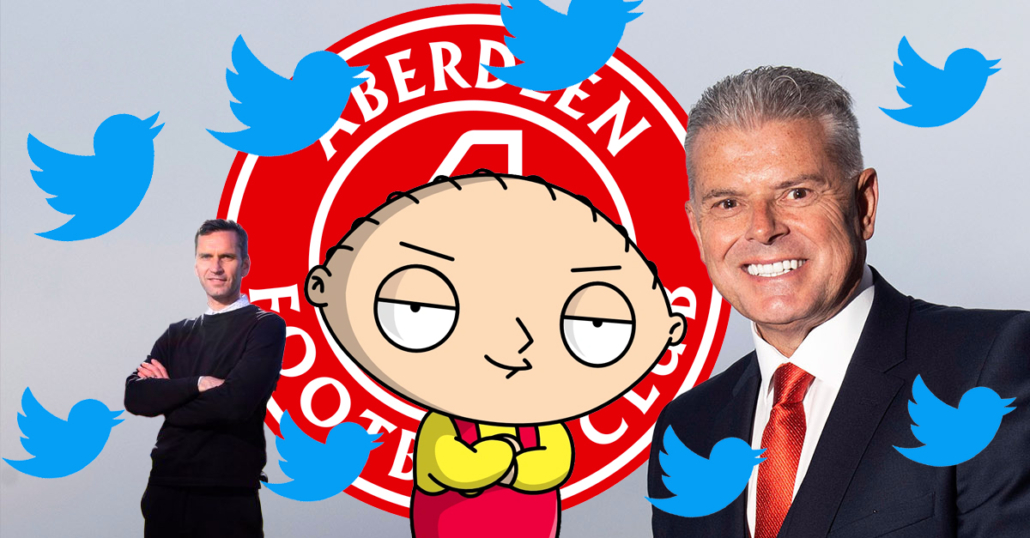 October 17th 2021
I'm going to be a dick now about Glass and stuff I've seen on social media. In my defence I've largely been very quiet on everything for quite a while. Just let things unfold. Drawing Gothenburg Greats (my own quiet heroism), judging everyone and binge watching Family Guy.
So read this in Stewie's voice…
All set? Here we fucking go!
Let us not forget the collective dandy madness that had supporters purring over the signing of a 30 year old journeyman from Livingston on a free, with a collective 'just wait until the striking coach gets hold of this guy…' like we'd just picked up Marco Van Basten from Milan in the 80s. How was he ever going to be anything other than the next Curtis Main.
There was that time on Twitter I said Brown probably wouldn't be much cop as he was two years older than Jonny Hayes, and was told 'I knew nothing about football'. 
Well you know nothing about how time works. Which I forgot to tweet back but meant to.
There was that one game early on where we played well (Hacken at home?) where during the game tweeting 'Be careful what you wish for!! Sneering emoji, sneering emoji, sneering emoji' was some supporters first reaction even before the final whistle. On the back of a fucking pandemic and the whole support having gone through an emotional shredder the previous 12 months.
*noisily clears throat*
You should have been careful what YOU wished for then shouldn't you. Sneering emoji! Aubergine emoji, a rubber duck emoji. (still Stewie)
Clue-doh!
Let's not forget the first really big clue. The Dundee United cup game last season where we were royally turned over by an exceptionally average Dundee United team even by Dundee United standards. Mister confident knows what he's doing and speaks so well, that's my manager (vomit). At his first significant (and expensive) defeat while under pressure in an interview for the first time, did the good manager thing of taking responsibility and saying 'he was to blame'. And then immediately did the absolute fucking opposite by saying, 'but the players had to understand that level of performance wasn't acceptable' (he hadn't rotated the squad since a tough midweek game against Celtic, as he hadn't reached that page in the management for dummies book yet). Thus blaming the players publicly, which would immediately damage team morale. Which was presumably on the next page of the fucking book on management he singularly hadn't fucking read yet.
That day, was day one of, look how out of my fucking depth I am. 
Clunkety clunk
Let's not forget the clunkety clunkety clunk of the back stories of how he and the back room team had always stayed in touch down the years ("mainly on the phone" as that's important to explain in the backstory, particularly if someone was double checking geographic locations and timelines) to maintain the illusion of a natural group, the coming together of the A Team rather than a disparate group of individuals collected together with the aid of Google.
Let's not forget if my maths and memory is correct three talented young players offered contracts elected to leave rather than stay at Aberdeen. One didn't have a club to go to. There can be many reasons for this, one of which might be, Cormack Park is a pretty shit place to go to work if you are an ambitious young player. All eyes should be on the young players who's contracts are up in the summer. Watch very carefully if it happens again. (Older players sign mainly for salary, 18-23 are looking to have their potential developed by someone they believe in).
Super Striker
Let's not forget no one questioning the striking coach despite not a single EPL club in their right mind would ever consider giving Gareth Southgate a job if he became available, but some bloke who used to play for Hamilton with a company called Super Striker (Really!? the fuck were the company names that he rejected?!) was somehow the greatest thing since sliced bread, but with all that money available in the EPL, Aberdeen we're able to snap him up under the noses of Chelsea, Man City and Burnley…
There was that time everyone decided racism wasn't important because Aberdeen's moral compass said 'he was backing his teammate that's what they do' like that excused Celtics shameful behaviour that could finally be called to account. Destroying any integrity Aberdeen had just to sign someone who used to be Scott Brown. All Brown had to do was acknowledge mistakes were made. A part of the club died that day.
There was the time the chairman answered 'no' to the concept of fan ownership and everyone went, 'ok then, that's fine'. As apparently questioning millionaires isn't allowed in the Dandy support. Oh look Pittodrie is destroyed. For Gods sake no one consider questioning how that happened. And with a builder in charge. What are the chances. Oh look we have to move. That's my Chairman. (vomit) I hope he says 'rowies' again. (vomit)
Pulp Fiction
Let us not forget on social media an account saying 'although we are losing, it just needs time', and the superb technical analysis that went with explaining the awesome new tactical stuff of fullbacks in front of wingers and all sorts of incredible analysis that someone like me who 'knows nothing about football' wouldn't be able to understand until later, but just wait. We're still waiting and that technical analysis appears to have dried the fuck up. Tell us again how it was going to be brilliant later. Tell us again! Samuel L Jackson voice: tell us a motherfucking gain!
There was a game we lost (all of them?) but according to some on social media we won 75% 25% on possession so we needed to be patient because we 'knew nothing about football'.
And finally the time early on when I said Glass reminded me of a character in an ITV police drama, the Scottish football manager character, just incredibly 'on the nose'. I was trying to word it nicely but I think 'fake' was the word I wanted to use. Well I was watching an old episode of Touch of Frost with David Jason from 2001 and there he is. Generic cliched gruff hard as nails wiry Scottish football manager. Also considerably more convincing. The actor. The actor playing a football manager in Frost.
Anyway I'm out of here, I'm emotionally drained. Oh I called it right at the beginning https://thedandydons.com/breaking-glass-frankensteins-monster-and-the-romanov-era/ either because it was patently obvious, or I'm Stewie and I used his fucking time machine. And no, I'm not smug about it, and I'm not pleased I was right, and plenty others saw through it all too.
P.s. Wait a minute, 'pants pisher' what happened to that phrase that was being dished out to anyone questioning Glass? Don't hear that one so much anymore. Interesting the same people dishing out the 'pants pisher' insults were dishing out 'happy clapper' as an insult for backing McInnes.
https://thedandydons.com/wp-content/uploads/2021/10/aberdeen-glass.jpg
627
1200
Dandy
https://thedandydons.com/wp-content/uploads/2021/07/dandy-logo88.png
Dandy
2021-10-17 15:25:44
2023-12-07 20:11:13
Me being a dick about Glass