Sam Cosgrove – from the Blond Bomb Scare to Ballon d'Or, a 2019 year review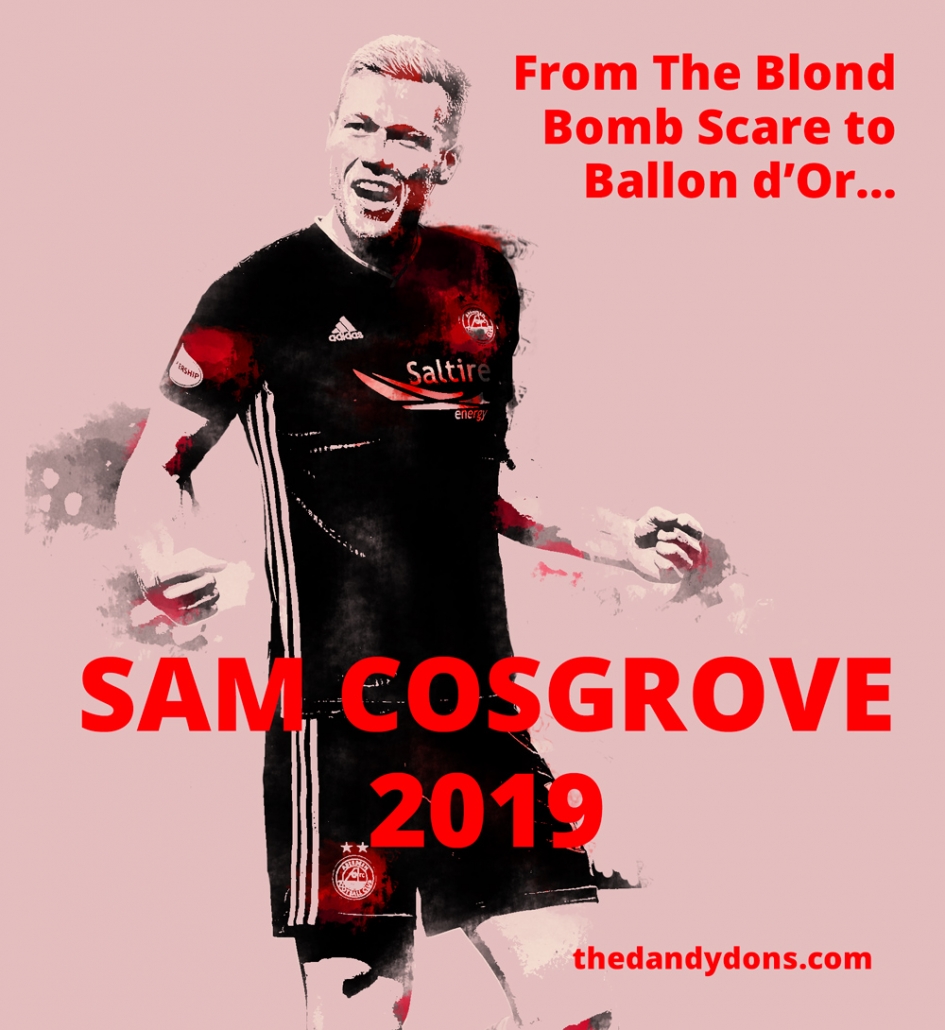 In a year remarkably short on Aberdeen FC highs, there is no doubt 2019 belongs to one man, Sir Sam Cosgrove. The stats speak for themselves, after scoring precisely no goals in 2018, he has at the time of writing reached 973 goals in all competitions for Aberdeen, 267 assists, scored 43 penalties, saved 5 penalties, and punched a seagull clean out. (I don't do research, you can find the real stats yourself).
To be more serious though, not only did he find his form and develop month on month as a player, he did it with a considerable section of the Aberdeen support on his back willing him to fail, for quite some time. That is something that could, and has destroyed other players, and at that young age is quite something to have turned around.
There is something robotic to Big Sam. Perhaps part cyber might be a less negative connotation. I have always felt there was something of that in Cristiano Ronaldo too. That combination of talent and sheer hard work. Not saying he is anything like Ronaldo as a player, just from the physique and the work ethic, and the steely robotic determination, there is something shared in the mentality.
I read recently he is, as well as our goal machine, studying accountancy. Maybe that was the cold, robotic, cyber vibe I was picking up. Apologies to any accountants…
Scott McKenna
Worth taking a look at Mr 2017-2018 too, Scott McKenna. An important lesson in what can go staggeringly wrong. Albeit he can still save it.
He's clearly been tapped up, as they bid for him, we know which team it was, and that has contributed to his first half of the 2019-2020 season being pretty appalling by his own high standards. Another point on McKenna is when he was really good for us, Kári Árnason was at the club. It was mentioned a few times, how much Árnason was talking to him during games, or if not playing, during training games. Not saying for a second a 37 year old should be brought back, but it is sometimes worth analysing why someone was previously exceptionally good, rather than why they seem to have lost it a bit.
Cormack Soccer Park
Then there is the training facilities, which are in a shock to all watchers of Aberdeen FC supporters and all things AFC, a universally popular development. Having said that (here we go) after a couple of recent performances, and the discovery that it will cost 750k a year to run, bit of me thought, a little bit of me, just shut the effin' thing, and make them train on the effin' beach, with the effin' tide in preferrably…
As for Cormack, we can only wait and see. He lives on another continent, as does another director, who's trivial in the scheme of things 2 million contribution for a remarkably large percentage of our club is at the least worth monitoring. The 'what in the love of God is Gallagher doing in our team' element doesn't help that concern.
The loan players in our team has to be one of the biggest concerns of the latter McInnes era. Why are they in our team? If they are with a view to a purchase, fair enough. But developing other clubs' players, resulting in the temporary nature of our squad. The lack of cohesion and understanding each season, as they start again with another group of new players, what's the point in having players for six months in our team? I can see what the loan player gets out of it for their career, and I can see what the team owning the player get, and I can see what it does for the manager's CV, but I don't see what the Aberdeen FC team get.
If we don't have enough talent coming through the youth system to deserve those first team development places, we need to be hoovering up the talent from the lower Scottish leagues. It's not accidental, despite there being plenty good at Aberdeen FC, a lack of continuity is making us have to start again twice a season, and is massively hampering any chance in Europe, as a brand new team is several months away from developing as a team. And in season 2019-2020, in December, still hasn't clicked.
Pretty sure the cup winning team of a couple of years ago contained no loan players. Here's to 2020, and Dek revealing he had a cunning plan developing all along proving everybody wrong, and making us all deliriously happy!
https://thedandydons.com/wp-content/uploads/2019/12/sam-cosgrove-aberdeenfc.jpg
628
1200
Dandy
https://thedandydons.com/wp-content/uploads/2021/07/dandy-logo88.png
Dandy
2019-12-11 10:09:51
2019-12-11 10:27:12
Sam Cosgrove – from the Blond Bomb Scare to Ballon d'Or, a 2019 year review