Stephen Glass and the football philosophy stoned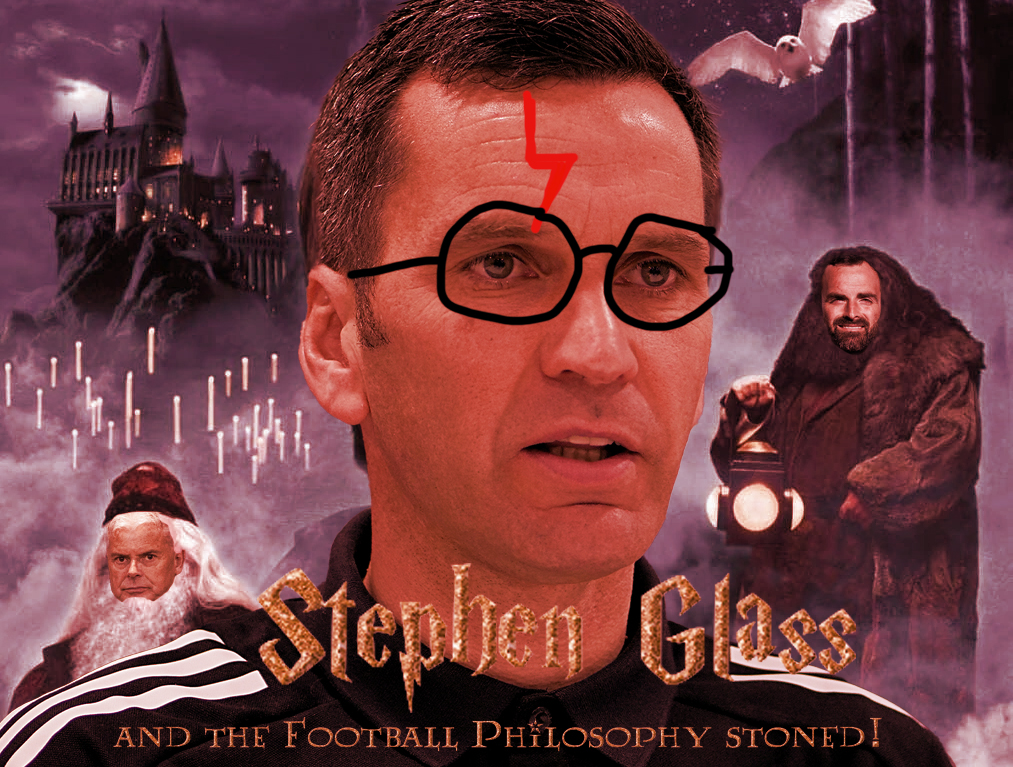 I'm coming around to Stephen Glass. Perhaps it's my contrary personality, perhaps I just needed time to get over the last guy, perhaps I wasn't able to drink the Stephen Glass Kool Aid others were pouring down their throats with wild abandon, because others were drinking it and getting on my f*cking nerves… I genuinely don't know why or how my football emotions work.
Now Glass is under pressure and others are questioning him, and he's looking a bit, a lot, out of his depth, I kind of feel for the guy.
But what's wrong, what is the reason this thing, this philosophy isn't working?
Well what is his football philosophy?
Attacking, entertaining, on the ground, fast, sexy, Brazil 1970s football? (I don't do details, or research, but something like that).
And where does that philosophy come from? His time working under Johan Cruyff? Nope. His time living in Brazil? Nope. Is that how his Newcastle Utd team played? Nope. Is this how Atlanta play? Nope. Is that how his Atlanta reserves played? Nope.
So where does it come from?
It is the antithesis of the last 18 months of the McInnes era and was created in my opinion, depending on which version of the assorted timelines you wish to believe, to either convince Cormack to give him the job 18 months ago, sorry six months ago, or together with Cormack it was created six months ago to convince Aberdeen supporters to accept a manager who has never managed a football team at any real level before and to help sell season tickets.
And if that is the case, and looking at current performances, that has become a massive rod for his own back, and why the team can't buy a win.
Now if I am right on this being the 'anti-McInnes football philosophy' (anti last two seasons), and it's a big if, then an entire football philosophy of a football club has been built around the complaints of a few very loud voices on Twitter. This also explains why quite a few of the people still backing Glass unquestionably on Twitter are those same people. Well no wonder, the philosophy was reverse engineered out of their angry f*cking tweets the last two years!
Now of course there is a huge 'if' on that. Albeit it's a hysterically funny concept, if it wasn't so f*cking tragic. But let's just say my conjecture is wrong, let's look closer at Glass.
His football philosophy is all well and good. It's a lovely concept. But surely a philosophy like that is a long term project, that would take several years to implement, several transfer windows to bring in the right components, and should be instilled gradually, and dare I say it, not be shouted from the rooftops from the outset? Perhaps be shouted once it is working and in retrospect. Look what we did? We came in with this philosophy and then we changed x, y, and z and that's why f*ck me Aberdeen now play like Brazil 1970 (but much, much younger obviously).
But by shouting from day 1, and with no previous example to go 'this is how we did it at Atlanta, or Dunfermline or wherever', this is just something in the inexperienced manager's head, and while he may be a football genius, the second coming of Alex Ferguson, when he hasn't done it before, you kind of have to ask, why hasn't he done it before?
Why do famous names in football not work their way up? Not begin lower down to learn the job? Why did Neville start at Valencia, Shearer start at Newcastle, Rooney at Derby? Why not start at Stockport, Southend, Cowdenbeath or Falkirk?
Quite simple because they know they will get found out. In a league up against other experienced managers who don't have famous names, with teams with similar budgets, when put to a real test of their managerial ability, they will get found out for the absolute frauds they are. Because if you are a great football manager, up against others you will rise, you will do something special with that team, you will improve players, and get your team to out play similar, and on occasion bigger budgets. You will play better football, and your natural talent will be clear and obvious. You will also learn on the job about some seemingly basic things. Like squad rotation, and how to deal with being down to 10 men.
The famous name thing is very weird in football. Wenger, Ferguson, Stein, Mourinho, Klopp not great players. If you were to pick a player randomly out of your team to become a football manager, you probably should start with your worst player, not your best (or more seriously, the most intelligent, not the most talented with a ball at their feet). Why anyone would be so stupid to think Wayne Rooney a potential football manager is just unbelievable.
Gordon Strachan said something really good about Sir Alex Ferguson many years ago. He was asked something like what had he learned from him, and what a young manager should learn from him (Sir Alex).
His answer went along the lines of learn all you can from him as he is a genius, but never ever try to be like him. Because it will be false, and the players will know, and it won't work. You have to be yourself.
And that's what Glass needs to do. He has to stop being the version of a football manager he has dreamed up, and be himself. Every interview I see, every version of how he got the job, the relationships with the coaching staff, there appear to be back stories that um, go a bit clunk. And doesn't need to be that way. You are manager of Aberdeen, that's your coaching staff, it is what it is.
You are an inexperienced manager, with an inexperienced disparate coaching team that may have huge talent. There is nothing wrong with the truth. Stop faking confidence that you can't have, having never done it before. And together we move forward and get onboard. Because just maybe, underneath all the fake confidence, is a football manager.
These next difficult games may well be just what is needed. Good luck and stand free and all that.
https://thedandydons.com/wp-content/uploads/2021/09/glass-feat.jpg
628
1200
Dandy
https://thedandydons.com/wp-content/uploads/2021/07/dandy-logo88.png
Dandy
2021-09-27 19:05:54
2022-09-08 14:54:12
Stephen Glass and the football philosophy stoned