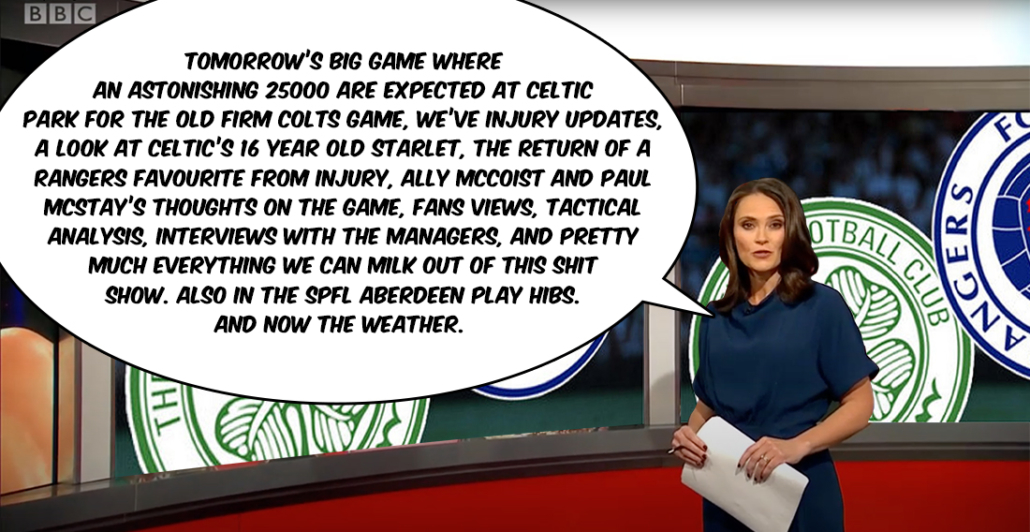 Two clubs wish to have their B teams in the lower divisions of Scottish football. Two businesses with no interest in developing talent, football, sport or Scottish society, want to increase their revenues by expanding their franchise. These 'global' clubs whose 'global reach' goes as far as wherever Scottish or Irish people with certain sectarian and/or glory hunting tendencies emigrate to, have realised the only way they can really develop their franchise is by tapping their core support as they are gullible as fuck and easy to fleece.
They will use these teams to generate income, to put their bloated squads' out of favour players in the shop window, and ultimately together with the succulent lamb, talentless, sycophantic, vile Scottish media 'journalists', will turn 'Old Firm' B the sequel into the second biggest game in Scottish football while loudly proclaiming it to be the 'biggest and greatest colt team match in the world'.
So what of smaller clubs? Increased revenue can only be good? Those two teams are going to get competitive. They are going to do everything possible to be ahead of each other, and to generate interest in the big game, the only game that matters to these cretins, the Catholic v Protestant game.
So you are going to take a lot of tankings from those two teams, 4-0, 5-0, 9-0 against full-time professionals. You will also get their supporters at your grounds and their lovely songs and behaviour and entitlement that is so endearing in the SPFL. And as for more exposure, the Scottish media could not care if you close tomorrow as they are too busy sucking on the rancid, sectarian, neoliberal 'Old Firm' cock to give a flying fuck for your club, Scottish football or Scottish society in general.
So have a good long think before you vote on this one. These two 'global' businesses are using a pandemic to push through something they've wanted for years to dominate Scottish football even further. The two businesses that are allowed to play all neutral semi-finals at neutral Hampden because they just don't have enough advantages already. Something supporters are so used to, they don't even fucking question anymore. A neoliberal carve up going back to before Thatcher was even born.
The clubs could of course get smart, and say 'yes you can put your colt teams in our league. And because you are doing it to develop talent, and not to expand a franchise, you can hand over ALL revenue from your home games to the other clubs to help grassroots football in Scotland.'
And they'll be gone like a rat up a drainpipe.
So to the clubs who can vote on this, wake up and smell the shitty fucking coffee you fucking fools if you even consider this concept. They are going to make an absolute colt of Scottish football.
So no change there.
https://thedandydons.com/wp-content/uploads/2020/06/reporting-scotland-glasgow.jpg
568
1100
Dandy
/wp-content/uploads/2020/05/dandy-logo-2.png
Dandy
2020-06-11 11:55:42
2020-06-19 10:24:02
'Old Firm' colt teams in the lower leagues – the biggest colt game in the world