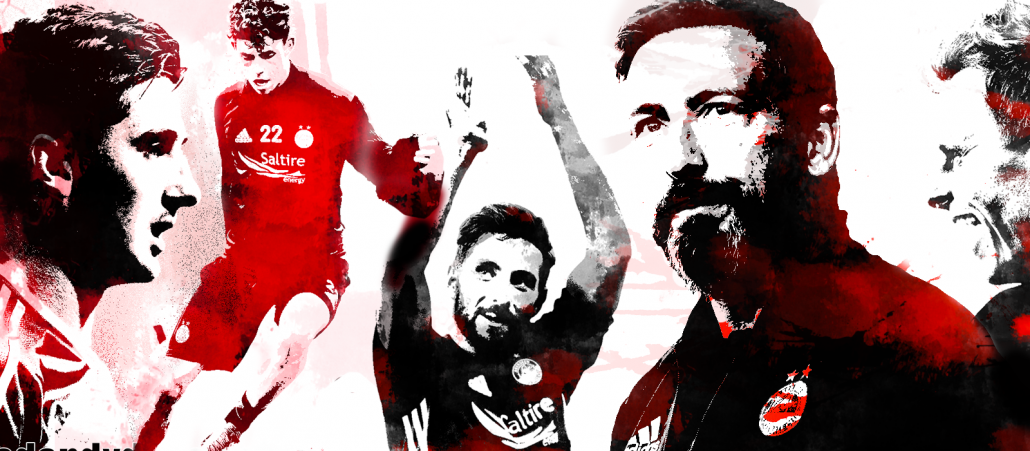 Before assorted fourteen year olds reach for the 'Happy clapper' button on their phone, I'm not happy with our team at the moment. Wasn't happy last season, and am deeply concerned for where it will go over the next few months.
The reason I am still backing McInnes however, is because I believe he is intelligent enough to change, learn, and lead us out of this mess, and onto a team playing decent football again. That opinion may change further down the line.
Mark McGhee
One of the arguments I get directed at me regularly is 'just because he's not McGhee…'. Well it's got nothing to do with McGhee. Because despite what my skinny jeans and my dating profile say, I am older than the hills. I was there for Fergie, and McNeill, and just about McLeod. But far more importantly, I was there for Porterfield. And I was in the demonstrations that would lead to his sacking. And I was there for the Alex Smith demonstrations, and I do not regret it, and I will, and have, argued with anyone that they were a pair of wage thieves incredibly lucky to inherit Ferguson's legacy and they absolutely destroyed that legacy with indecent haste, particularly the arch careerist Smith. Neither should have gotten within a country mile of Pittodrie, Ferguson's team or the cash generated during the glory years.
Lest we forget…
Then watching my hero Willie Miller crash and burn, into the beyond idiotic appointment of Roy Aitken. Onto the nothing short of unbelievable appointment of Alex Miller. Who's management of Hibs a few years earlier would make the current Hibs team look like Brazil 1970. A sick five months of Hegarty as interim manager. The Skovdahl years. Into Steve Patterson (due diligence anyone? Albeit it clearly wasn't done on any of the other managers), Calderwood, McGhee, and Craigie 'Largs Mafia' Broon…
So, 'he's not McGhee' isn't a thing. Since Ferguson left for Man Utd, the managerial decision making was worse than appaling. You couldn't have deliberately done things worse. Add building an atrocious stand behind a goal that bears no relation to the rest of the stadium, not purchasing any of the land as it became available around Pittodrie, and a plan to move eight miles away with no decent transport infrastructure, and you have to kinda say, Stewart Milne is an absolute… oh yes we are discussing McInnes.
Shinniesta – huffy-puffy Captain Caveman on a yella punchin' the badge
I put last season down to 'The Graeme Shinnie Show'. And all those desperately following him at Derby, well maybe look away here. The fullback who wouldn't play fullback, the Philipp Lahm to Dek's Guardiola, but frankly a not good enough defensive midfielder who kept getting in the way of attacking moves by trying stuff he wasn't skilled enough for, running into cul de sacs, and generally leaving our team a disjointed mess. All at the same time as we really needed a decent permanent left back. And I like Graeme Shinnie. Really I do. And only wish him well.
But the Shinnie thing points to one of my complaints with Mcinnes. Aberdeen FC were very good for Graeme Shinnie, look at the fantastic contract he will have gotten at Derby. Ditto Kenny McLean, who regularly was very poor for Aberdeen. Ryan Christie, was playing his own very selfish game. Mackay-Steven, what a lovely contract in New York he got after being indulged by our club. Ryan Jack, the centre midfield position he never filled properly, or the captain's armband. James Maddison, do you remember the other games he played in, other than that free-kick, before being whisked away just as he was starting to deliver. Jon Gallagher? Who will be leaving in a few weeks…
Aberdeen FC will have been very good for Gallagher's development, giving him first team starts his club weren't giving him. The top coaching from McInnes and Docherty will have helped him immensely. Meanwhile how are Aberdeen doing with him in our team, literally weeks before he leaves? So we will have a big creative hole in our team, because we brought in, and massively helped someone else's player, again.
Is it because the coaching team love to work with more talented players? Is it for the careers of the coaching team? Is it because we are some sort of testing ground for people on their way elsewhere? Players and managers? Or is Gallagher there for some reason connected to US investment, or Bobby Clark (Notre Dame), or Cormack? Has he been forced on McInnes?
Also contrast the above players with the original, and most successful McInnes team. McGinn, Hayes, Rooney, Pawlett, Robson and Flood in the middle. All permanent players. A team, a unit, no-one indulged. No one playing out of position. Any loan players only with a view to a permanent move. And Pawlett. An inform Pawlett was very special. He left as Christie and Maddison were being played in front of him.
The negative mindset
Another issue is the negative mindset. The defensive line-ups against bigger budget opposition. It categorically doesn't work. If you have Miller, McLeish, McKimmie, Robertson and big Joe in goal, fair enough, they could defend all day. But our, at best, journeymen defenders cannot play a defensive game, and as soon as they have conceded a goal, their heads go down and the team are finished. Something countless Scotland managers haven't understood.
And how much better might our defence have been for a potential backs to the wall break away display, had we had a regular, and very talented, left back playing? A Shinnie shaped left back, instead of Considine (a centre-half) or a temp on loan player, who's real loyalty is to his parent club.
Start managing the team you have, not the team you wish to have at your disposal.
The Cup Winners' Cup Final, into extra time against Real Madrid, it's 1-1. A superb Aberdeen defence, a fifty fifty chance if they could get to penalty kicks, did they defend, did they sit back and show Real Madrid the respect their reputation deserved? No, they went for it.
If you lose after attacking a club with a far bigger budget, we will always forgive, if you play defensive, and monumentally screw up, then you will get exactly what you deserve. And that's what happened at Ibrox last week, and for Alex Smith at the same venue.
You need to sort things out quickly McInnes. You deserve that chance. Those will be your training facilities, the training facilities that you made happen, irrespective of the name that goes on them. But time is running out. So get it sorted.
Yep, I'm a happy clapper.
https://thedandydons.com/wp-content/uploads/2019/10/mcinnes-aberdeenfc.png
700
1600
Dandy
https://thedandydons.com/wp-content/uploads/2020/05/dandy-logo.png
Dandy
2019-10-06 16:19:12
2019-10-12 20:58:10
I've not come this far to ditch McInnes yet