Champagne Charlie Supernova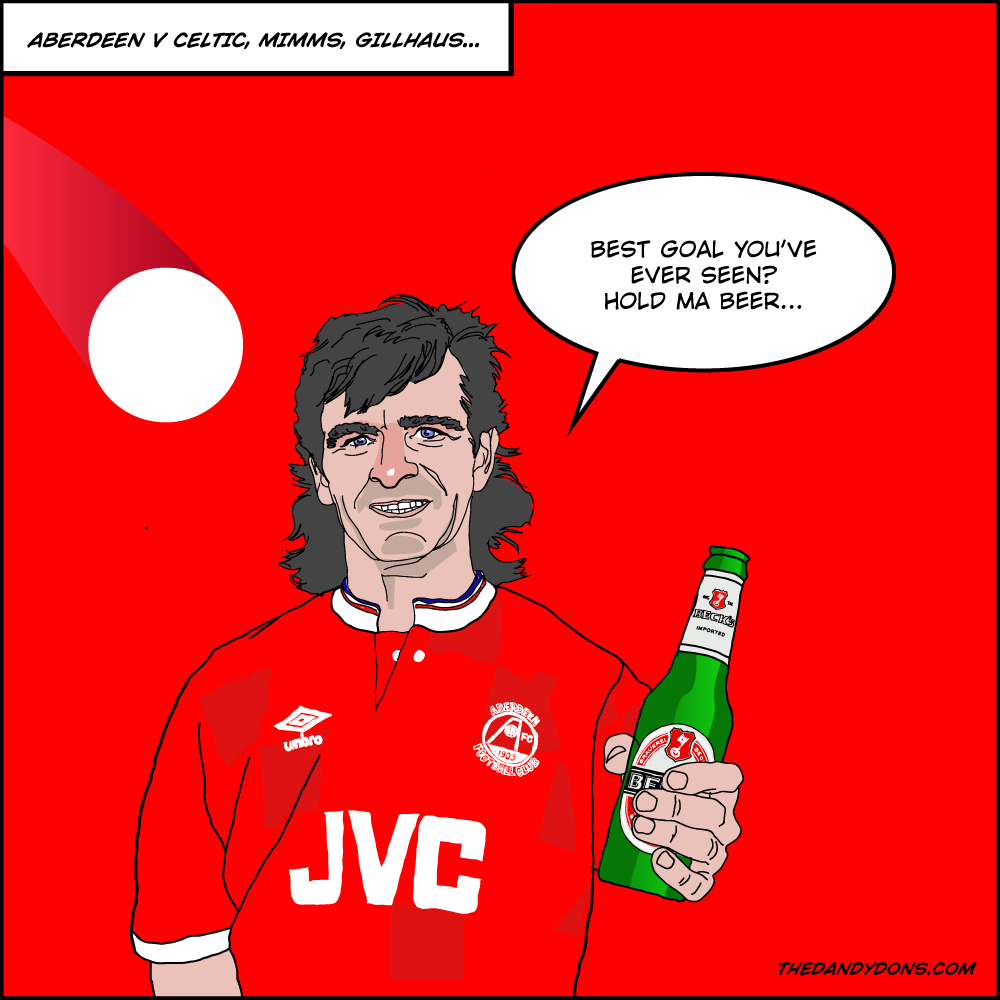 How Charlie Nicholas signed for Aberdeen was a fascinating story. This is all pre Sky TV where very little football was on TV, live at any rate, and the money in England was nothing like now. Charlie had been the most sought after player in the UK while at Celtic. He turned down Liverpool. The all conquering Liverpool of the seventies and early eighties. He chose Arsenal. Odd to think now but Charlie Nicholas was considered a looker, a sex symbol, was on the covers of magazines, was quite the star. And had probably quite the lifestyle to go with it.
Then George Graham took over at Arsenal. Graham decided he didn't want him.
But why did we get him? One reason was, we had the cash. Aberdeen FC were a very cash rich club for a few years. The Ferguson legacy money. All those trophies, all that success, buying cheap, selling expensive, developing talent, not paying exorbitant salaries. A very well run club, who'd had the manager of a generation in charge. They had even developed parts of the stadium, something very unusual at that time in British football. All very sound management.
Ian Porterfield who came next, said after he had left the club, 'you've no idea, how much money I had to spend. But I wouldn't just blow it'. Something like that. But he did sign Charlie Nicholas. And unforgivably punted Peter Weir out the door almost the same day. Because the one thing Charlie Nicholas wasn't going to need was a winger to supply him with ammo…
When Nicholas signed, Brian Clough made an odd comment, 'that's a long way to go for a game of football'. It seems Graham wouldn't sell Nicholas to any of Arsenal's rivals. Any of the clubs that could have afforded his then wages, or with managers who could have gotten the slightly wayward Nicholas back on track.
I saw an interview with Nicholas recently where he said he was lined up to go to France, Graham scuppered it for him (this is pre-Bosman) and Nicholas believed it was out of jealousy.
For the next few years George Graham's Arsenal would go onto huge success. Not only shafted by Graham, but to sit back and watch him, and his former team mates doing very well, must have been incredibly hard, or at least very mixed emotions.
Charlie himself never showed it, publicly at least. He was always very positive about the city of Aberdeen, and the club, without ever patronising us supporters either. There must have been a fair bit of tabloid pressure on him. From Stringfellows nightclub to training at Balgownie kind of thing.
The Wenger years
As it turned out, Graham was sacked by Arsenal when he got caught stealing. He then went to a couple of different clubs where a pattern emerged. At Leeds Utd, their star striker Yeboah, dropped, finished, Thomas Brolin the same. At Spurs, Ginola, dropped, finished. What they all have in common with Charlie, they were presumably underperforming, but they were probably the most naturally gifted players in their respective squads, and as flair players, loved by supporters. Was it to engender team spirit, or to show who was in charge, or did Graham just like to destroy a career?
I went to an Arsenal game once at Highbury under Graham when I moved to London in 93. It was against Nottingham Forest in the FA Cup, in what would become Clough's last season. Inside twenty minutes Ian Wright had scored two sensational goals. Incredible to see. English football was fab. www.youtube.com/watch?v=n2byTsNG2FA (looks like a Pathe Newsreel now…)
They then 30 minutes in, proceeded to park the bus. 2-0 up, playing at home, against a Forest team that would eventually be relegated. So 'boring boring Arsenal' wasn't just a bit of football banter. George Graham's teams were horrible to watch.
---
Update: After posting this I bumped into Graham Hunter's interview with Charlie Nicholas. Highly recommended listening. www.grahamhunter.tv/category/the-big-interview/. The rest of his work is also outstanding.
———————–
Why the bottle of Becks in the illustration? Whenever Gordon Reid drew 'Champagne Charlie' in The Northern Light fanzine, he invariably had a bottle of Becks in his hand. It was never the main part of the joke, it was never explained, it was just there. I always thought it incredibly funny. Cheers Gordon!
And the Mimms, Gillhaus, Charlie goal. www.youtube.com/watch?v=QFhbeK_vu2M
https://thedandydons.com/wp-content/uploads/2018/10/charlie-nicholas-aberdeen-celtic.jpg
630
1200
Dandy
https://thedandydons.com/wp-content/uploads/2021/07/dandy-logo88.png
Dandy
2018-10-03 11:07:52
2019-12-30 13:19:10
Champagne Charlie Supernova