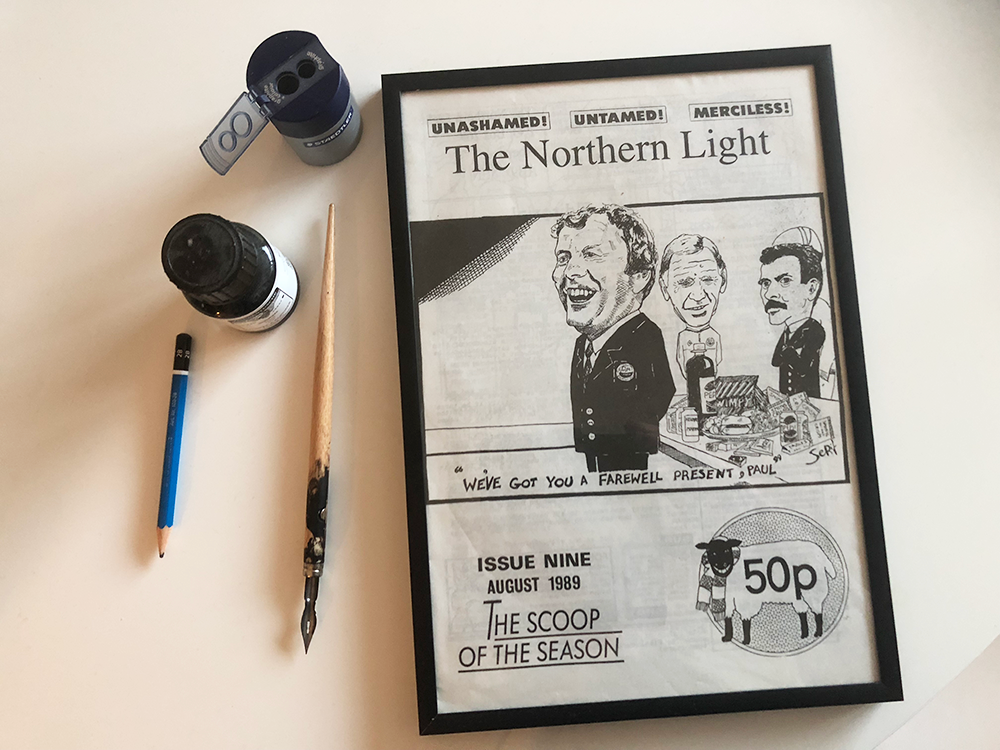 Alex Smiffy Smith- The Northern Light and P&J years
I used to think Alex Smith was the most divisive person in the history of Aberdeen FC. I thought, you either loved the man, or hated him. I came to the conclusion after a while he wasn't divisive at all. Everyone pretty much loved the man, and it was just me that still had a problem. I was the divisive one.
Now let's get things straight. No one really hated him, the person, we're not sociopaths, I and anyone who wasn't pro Smiffy wish him a long and happy retirement.
But could it be I just remembered the Smiffy years particularly well, particularly the latter time after Jocky Scott left?
Ah Jess, I remember it well…
My happiness during a weekend has always been defined by an Aberdeen result, but there are times where I am more zoned in than others to all things Afc. And when I am most zoned in, is when I produce artwork on the club.
I contributed to The Northern Light fanzine about 1989 to 1992. Overlapping I also contributed 100 cartoons to The Press and Journal (about 60% fitba) 91-92, had a full time job at Aberdeen Journals as a layouter and of course, was a season ticket holder.
If I were to write a thesis on the Dons, it would be about the Smiffy years. (You're reading it)
Sheep with very sharp teeth
For those of you who don't know what The Northern Light was, or it's significance. A fanzine, like The Red Final. Fanzines had blossomed on the back of the punk movement of the late seventies. There was access to Word processors and photocopiers, and around the late eighties printing technology had developed to make printing a short run more affordable. Pre-internet, they were very big for a while. For the first time, supporters could get their opinions published and read.
The Northern Light was significant, as through either great skill from the editors (pushes own eyebrows back down) or sheer laziness from Aberdonians (gettin' warmer – Scotland the What spider voice) there only was one Aberdeen fanzine. Hearts had about seven at one point. God knows how many Old Firm ones there were. So as a result, a lot of talent concentrated on one fanzine which made it frankly exceptional. Not just in Aberdeen, it was incredibly well regarded throughout what was a pretty large fanzine movement throughout the UK. Gio, Dave, Martin and another guy, as editors created something special. I was a tiny, inconsequential part of it.
Jumpers for goalposts
I have a memory of walking down the Merkland Road one sunny matchday, The Northern Light was on sale, and well established. There were large queues at the various sellers, there was a buzz of anticipation, there was a new one out.
I sat in the South Stand, someone in front of me reading it, laughing as they read it, I could see their reaction to the magazine, to my work, in our cathedral, I knew instinctively I'd never experience anything like this again. Anything so special.
That was before I discovered macaroni pie suppers.
Strengthen your resolve
Me and Smiffy. Let's get to it. Shit manager. Shouldn't have gotten the job. Co-managers, laughable compromise from people who didn't back either one, inherited the guts of Fergie's team via Porterfield, pissed all the money away. Largely bought shite, almost always from St Mirren. Crap tactics, crap substitutions, didn't develop talent at all, just played young players irrespective of whether they were any good or not. For Eoin Jess and Scott Booth, there was Greg Watson and Michael Watt, and quite a few others who shouldn't have gotten past one game. Was properly found out as Fergie's team was starting to age, he'd spent all the money and Jocky Scott left.
If you followed his career afterwards the same patterns repeated, spent all the money, team doesn't improve, fans protest, Smiffy sacked, poor old Smiffy, blame those Aberdeen supporters. Oh and he was a self righteous prick. His greatest skill, the ability to keep landing jobs based on fuck all.
And I can already hear the arguments. That was the beginning of the end, that's where it all went wrong, sacking Smiffy, he won two cups, what we'd do for that now…
Alex Smith didn't win those cups, Alex Ferguson did. Without even being in the fucking building. Ferguson generated the cash that got us Nicholas and Gillhaus. Miller, McLeish, McKimmie, Bett, the spine of the team, Ferguson players. Ferguson's winning mentality flowing through their veins. Jess and Booth? The seeds on a quality youth system needed to be planted well in advance… guess who.
If you know the history…
Appointing Willie Miller proved to be wrong (we finished second under Willie Miller twice, before it all went tits up). And history fans, no one was ever calling for Willie Miller to get the job. He was backed when he got it, but no one demanded he get it.
Just because the directors during the post Fergie years, got pretty much every appointment they made wrong, doesn't for a second make the sacking of Smith wrong. He also was a bad appointment, as was Porterfield, based on weakness, laziness, compromise and incompetence from directors that continued pretty much right up until McInnes got the job. I'm sure from now on they'll get all decisions correct…
There was another odd element, after Smith was sacked. He went public. He was in the media, broken and upset. No-one wanted the man hurt, but normally that's kept private in football. Imagine Steve Patterson's mental state after leaving Pittodrie in the boot of a car. He kept it to himself.
Then you've got the Glasgow media, every bit as vile as now. And as with Neil Simpson's tackle on Durrant, this was also an opportunity to attack Aberdeen supporters. Who do they think they are, hounding out this lovely man who won two cups. From journalists who only ever saw Aberdeen games if they were playing their beloved establishment Old Firm. Another chance to get revenge for those horrific Fergie years the Glasgow media had to live through.
Over to Smiffy
So that was my take on Smiffy, having lived, breathed and illustrated it. And I'd have kept that to myself. Until I bumped into this astounding interview on the official site.
www.afc.co.uk/2018/06/14/redmatchday-interview-the-alex-smith-story/
My what an interview. I haven't heard quite so much selective amnesia and rewriting of history, since I read back my Linkedin profile. It's an interesting take on history at any rate.
And apart from a silly reminisce this article is also for Jocky Scott. He should have been appointed manager after Porterfield, and whether it worked or not isn't important. I'd doubt very much he'd have spent the family silver at quite the speed, and with such lack of foresight, as Smith did. Which is the beginning of what allowed Milne in. "Our saviour".
Smith was appointed first team coach by Porterfield who was clearly fishing to see if he was going to get the sack. Ever so nice club Aberdeen had never sacked a manager before. Much like Pringles, it appears sacking managers is quite moreish. The way too weak Aberdeen directors let Porterfield appoint Smith. A few weeks later, they finally sacked Porterfield. Then were stuck with Smith. That's the level of competence that was governing Afc post Fergie.
And for anyone wondering, I didn't get him sacked, The Northern Light didn't get him sacked, a combination of very large numbers of Aberdeen supporters protesting after games where fewer and fewer were turning up to the actual matches, plus far more importantly Jim Dolan in The Press and Journal (the only place for Afc info back then) took him apart in a quite brilliant, and deserving take down after what would become his final game. But ultimately he was sacked at Aberdeen, just like at most of his jobs as he was a shit manager.
Lights out
I met The Northern Light team collectively maybe three times. I hadn't intended meeting them, anonymity suited my personality. A weird coincidence while contributing, of Bob Harper teaching me figure drawing at the College of Commerce night classes, (Bob wrote the brilliant diary, and contributed fabulous illustrations, The Bob Harper artist, a real renaissance man) meant I turned up to a Northern Light all you can drink buffet night out. A young, innocent, alcohol lightweight, with no social skills, I hadn't thought it through. You live, you learn, you forget after a bit, then do it all again…
The art department was sensational and I was incredibly lucky to ever get in, but it was a horrible process, not knowing what would get used, how it would get used. It was exactly the same process contributing to the P&J, The Absolute Game and later When Saturday Comes. I found the process so difficult to deal with in the end I had to stop doing it.
The Press and Journal gallery below
If you click on the photos  the image will open up and you can read some of the articles that went with the cartoons in the P&J. I never knew if my cartoon would get used or not, or what it would be used for. So the last one, that got added to a Jim Dolan interview with Ian Donald caused a bit of a stir. It's not a great gag, and it wasn't created to go with the article. But when added together… ouch.
A lovely guy who was into cricket was the chief sports sub that day. The normal chief sports sub's day off – also a nice guy, but more sussed football wise. I suspect I would have seen the 'interesting' juxtaposition in layouting, but kept quiet. There may also have been a chief sub with a season ticket who pretended not to see it before it went to print…